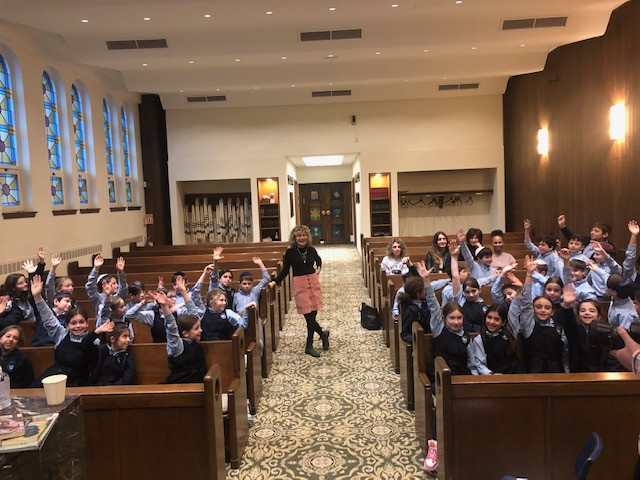 Ever have one of those mornings that flies by because you are having so much fun? That's what happened to me this morning at Solomon Schechter Academy, where I worked with students in Grades Two, Three and Four.
First, let me tell you about today's pic. That's me with the Grade Fours at the end of my presentation. When I told them there was time for questions, I looked out and saw all these raised hands! That's how many of the students had questions for me!!~ Before I started to answer, I asked whether I could get a pic of me with all the kids whose hands were raised! I LOVE QUESTIONS! That's because questions are a sign of CURIOSITY and curiosity leads to LEARNING!
So I have lots of interesting stuff to share about today's visit to SSA. I should start by explaining that principal Maya Doughan and I go back a long time! I used to visit her class when she was a teacher at Marymount High School -- and I'm rather star-struck by the course of her career. Anyway, I was thrilled when Ms. Doughan invited me to SSA. It was also very special that she sat in on my talks today, as did head of school, Steven Erdelyi. (And a special shout-out to assistant head of school, Julie Schneider, who was a close friend of my daughter's when they were growing up, and whom, I also felt, used to come to our apartment to play with me too!!!)
So -- a few highlights from this morning. When I told the students I've been writing a journal for over 30 years and that I'm now 62, a Grade Two student named Jacob called out "Whoah!" That cracked me up (Jacob clearly thought 62 was super old!!). And of course, I wrote the comment down because we writers are always looking for funny things to include in our stories!
I also wrote down that Ms. Doughan calls her students "chicken nuggets." And I overheard another second-grader named Jonah tell Ms. Dougan, "I have chicken nuggets for lunch." Writers can't make this stuff up -- which is why we write it down, blog about it, and sometimes use it in our books!
I spoke to a student named April and asked whether she was born in April. She told me, "No, I was born in February." But then, April forgot the question she wanted to ask me. April, if you remember it, or if any of the other students still have questions (there wasn't time to respond to every raised hand!!), go ahead and post your questions in the comments section of this blog, and I promise to answer each and every one of you -- say in the next week.
I spoke to all the kids about the story behind my new picture book, The Brass Charm -- that the story was inspired by a brass charm given to my mum when she was imprisoned as a child in a Nazi concentraton camp. This story prompted a student named Karter, who's in Grade Three, to tell me, "I have a gold and silver collection."
I loved when Emma, who's also in Grade Three, asked me, "What if you mess up?" I told Emma that MESSING IS UP IS AN IMPORTANT PART OF THE WRITING PROCESS. Hey, come to think of it, it's an important part of being alive. I mess up all the time when I write stories, but then I rewrite and make it better. As I told the students, the real work for me isn't coming up with stories -- it's rewriting them!
Another third-grader named Alexia touched my heart when she told me why she loves to read: "Whenever I'm having a bad day or whatever, I go to my bedroom and I read a book and it makes me happy." Me too, Alexia!
One of the Grade Four students asked me a question on the way out of the small chapel where I did my talks. Sophie wanted to know, ""How many breaks do you take in a day?" The answer is LOTS, but even when I'm taking a break -- for instance, when I'm making tea or going for a walk -- I'm always thinking about my stories. (Which is why I always have my notebook handy!)
Special thanks to Ms. Doughan for today's wonderful invite; to Mr. Erdelyi for attending my talks; to librarian and author Ms. Birdgenaw for the library tour; to teachers Mme. Chantal, Ms. Shoshanna, Ms. Nicole, Ms. Geyda, Ms. Esther, Ms. Cynthia, Ms. Amal, Mr. Sergio, Mr. Samuel, Mr. Medrick, Ms. Shari (who is also the school's director of English studies), Ms. Jordyn and Ms. Lesley for sharing your students with me. But thanks most of all to the students -- for your enthusiasm and never-ending questions. Look for me jogging in your neighbourhood!!