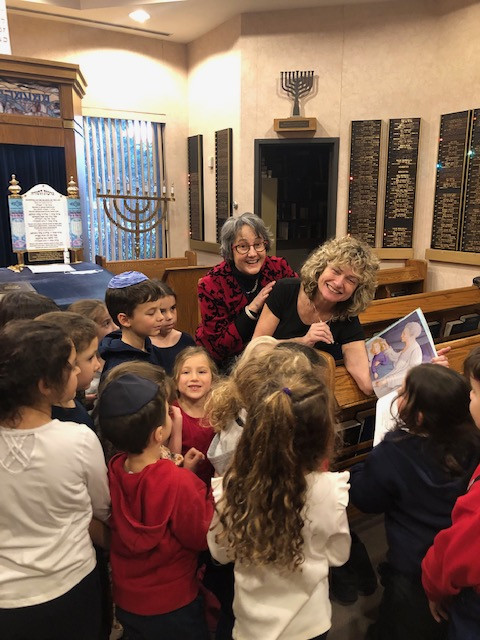 Today's blog post is about a special visit I did last week at Beth Tikvah Synagogue in Dollard-des-Ormeaux. The synagogue is home to Hebrew Academy's Afternoon School, and school director Aviva Miller contacted Montreal's Jewish Public Library to see whether they knew of a Montreal author who might come to the school to help celebrate Jewish Book Month.
Aviva spoke to my friend, Barbara Whiston, the head of the JPL's children's library, and Barbara recommended me. Which is how Barbara and I spent part of last Wednesday afternoon catching up in my car – and the rest of the afternoon with the kids from the afternoon school.
The kids were from kindergarten through grade four, and afternoon school starts for them every Wednesday at 3 PM and goes till 5 PM. You'd think they'd be falling asleep by the end of the day, but they were a wide-awake and wonderful audience.
Most of them attend Westpark Elementary School, and even the littlest members of the audience were quiet and attentive when I told them about the story behind my new picture book, The Brass Charm, and then read the book to them. They even clapped for me – which was THE BEST!!
Barbara introduced me to the kids – and told them about the JPL. She asked the first group – those were the kids in kindergarten and Grade One – whether they knew what a librarian was. A little girl named Sophie answered, "It's a person to go get books." Barbara also told the kids that her favourite part of the job is sharing books with kids.
I spent my second hour with the older students, who had lots to say about writing and many questions to ask about my story. Leni told me she is also hooked on writing: "When I come home, I like to write about my day." Keep doing that, Leni! Benji impressed me when he guessed correctly that I spent FIVE YEARS (that's a lot!) working on The Brass Charm, even though the story is only 900 words!
I was astonished by a question Ethan, who's in Grade Three, asked after I explained that stories need to have trouble in them. "When you write your stories," Ethan wanted to know, "when do you like there to be a problem – at the beginning? Or in the middle?" That's a super smart question. Notice that Ethan didn't ask about adding a problem to the end of the book – which is generally not a good idea, unless you are writing a series-book and you want to end with a cliff-hanger. Anyway, I told Ethan that I like there to be a problem at the beginning, and then I let it get bigger and bigger as the story goes along. By the end, there needs to be some sort of resolution.
Riley asked me, "When was the first time you ever knew how to write?" I think I made the kids laugh when I admitted that even after having published 32 books (and I've got two more coming out in the next two years), I'M STILL LEARNING HOW TO WRITE. I think that's why I like writing so much – because I'm always learning, and always trying to get better at telling stories.
Thanks to Barbara Whiston at the JPL for your company and for bringing me to work with the students at Hebrew Academy Afternoon School; thanks to Aviva Miller for coming up with the idea of bringing in an author for Jewish Book Month; thanks to the teachers and helpers for sharing your kids; thanks to the kids for ASTONISHING me – and a special thank-you to your parents for making such curious and interested young readers and writers!