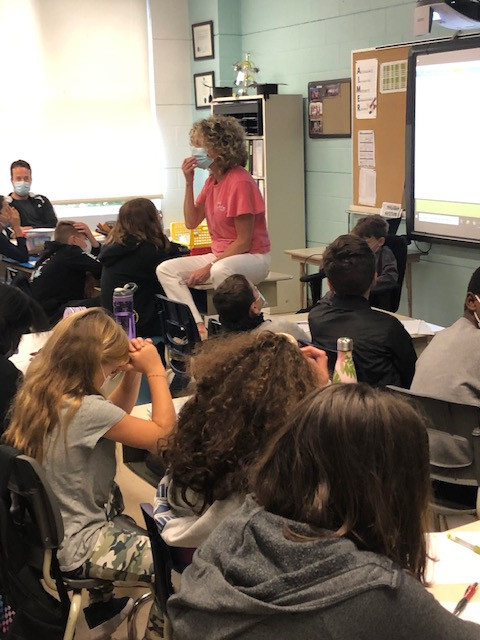 I'm just home from a happy afternoon at Ecole du Vieux-Chene in Terrebonne, where I worked with the school's Grade Sixes. This was my first in-person visit to the school; last year I popped in via Zoom! The students have been studying the Holocaust and are learning about Anne Frank, so teacher Ms. Crina invited me to talk about my book What World Is Left, a novel based on my mum's childhood experiences in a Nazi concentration camp called Theresienstadt. My mom knew Anne Frank -- they were the same age, and both attended a school called the Joodse Lyceum.
We were a large group today -- Mme. Marie-Pierre and Monsieur Charlie's students were there too -- but the kids were great. I was impressed that they managed to stay focused for two hours (with just one five minute pee break!!). I did my usual writing tips, talked about the Holocaust, and how my mum and her family managed to survive Theresienstadt. The students also had a lot of good questions. I jotted some down to use in today's blog entry.
Elizabeth told me she is currently writing a book. Yay, Elizabeth! "How old were when you started writing?" she wanted to know. I told her I think I was about eight or nine. To be honest, I can't remember a time when I wasn't writing a book!! Christian made me laugh with his question: "When will you stop writing?" I told him, "I don't know! I hope NEVER!" Samuel was looking at the notes I was writing on the whiteboard, and he asked, "Do I have to write it down?" That also made me laugh -- I told Samuel he could write down whatever he wanted to. Then I explained to him that for me, writing something down helps me remember it better. I suggested he might try that technique too! Justin wanted to know, "Does it happen when you're writing a book that you lose an idea?" I thought that was another cool question. I'm sure it has happened, but that's why I try to write all my ideas down as soon as I get them. Which explains why there are little notes in every room of my house.
Hiba had the deepest question: "How did your mom survive?" I told the class the answer, but I'm afraid I can't tell you, dear blog reader, since it would spoil the story I shared in What World Is Left.
We spent the last ten minutes on a writing exercise... I think by then, the students were running out of energy -- so let's just say not all of them were working super hard! I tried having them remember a moment from when they were five years old. That's because memories often provide the seeds for stories. Walid came to show me what he had written and he gave me his permission to share it here: "I run, swim and smile always." I love the rhythm and the feeling of that sentence, Walid. Now use my writing tip and ADD SOME TROUBLE. When I shared that advice with Walid, he told me there was no trouble in his life when he was that age. "Lucky you!" I told Walid. But then I added that he can USE HIS IMAGINATION to find some trouble and add it to the story to help bring it to life.
Thanks to Ms. Crina for the invitation and thanks to the other teachers for sharing their students with me. Thanks to the students for being such attentive, lively listeners. I wish you lots of good books to read, and lots of interesting adventures for you to write about!