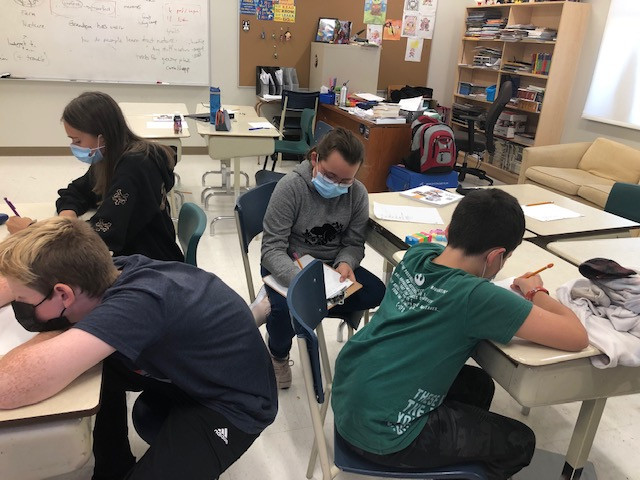 Yesterday, visual artist Thomas Kneubuhler and I spent the afternoon at Namur Intermediate School in Namur, Quebec. Namur is a two-hour drive northwest of Montreal, and this lovely little town was founded by Belgian settlers. There's a Namur in Belgium too, and hey, we have a Namur métro station in Montreal!
Thomas and I were in Namur to work with Mr. Curtis's grades five and six students. These kids are taking part in the 2021 edition of the Blue Metropolis project Quebec Roots. Their texts and photos will be published in a real live book coming out in spring 2022!
The first thing we had to was come up with a topic for the students' chapter. Luckily, Mr. Curtis had done some brainstorming with his class, so they were well-prepared and we settled on the topic of nature.
Thomas and I have worked together many times for Quebec Roots, but yesterday, we tried something new. We divided the class into two groups -- and then switched groups. This strategy gave us time to do photography and writing sessions with about ten students at a time. Of course, we also shared our writing and photography tips with the kids.
I asked some of the students to close their eyes (if you know me, you'll know that's a trick I often use to get young readers focused), and remember a moment from their past when they were in nature. Then I asked them to use that memory as a prompt. Gabriel wrote about feeling afraid when he was feeding his pigs. That's going to make an awesome story for your chapter, Gabriel!
With my second group, I changed things up a bit. I suggested they write letters to Mother Nature -- and they came up with some cool stuff -- but I don't want to give away too much here!
I had a few special happy moments yesterday at Namur Intermediate. One was when a student named Lydia asked me, "Do you ever read a book and forget all about dinner?" That made me soooo happy, not only because it happens to me sometimes too, but also because it shows how much Lydia loves reading. All writers love to read! Another happy moment was when a student named Amy gave me her picture -- which I will display on my refrigerator!
Thanks to Mr. Curtis, for sharing your wonderful kids with us. You know what? The students even agreed to skip recess so they could keep writing and taking photographs. I'd say that's a sign that the kids at Namur and also Quebec Roots ROCK!