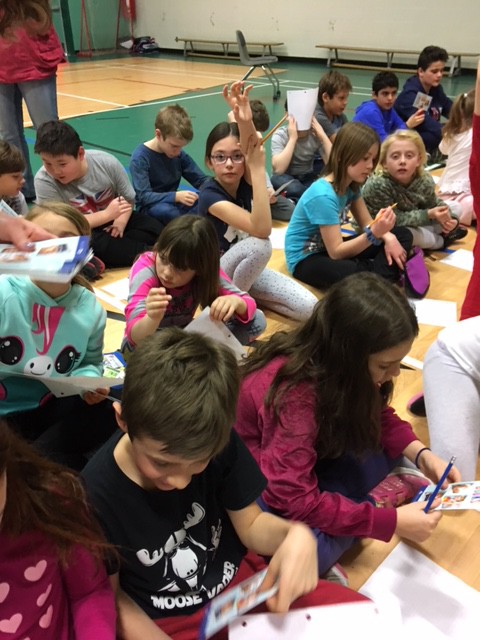 I'm just home from a happy afternoon with nearly 100 Grades Three and Four students at Evergreen School in Ste-Lazare. I usually work with older students, and I teach full-time at Marianopolis College, but you know what? I treated the Evergreen students the same way I treat my college students -- and it worked out fine!
I'll start with a couple of funny moments. I was telling the students that when I was a kid growing up in the 1960s, we didn't have computers. So a student named Roan asked a question that cracked me up: "Did you have erasers back then?" Yes, Roan, we did! And a student named Lucas told me, "I've never been this close to an author before." Also, when I asked the students what the first cousin of writing is, a student named Paige came up with the answer I was looking for: Reading. So when I learned that her name was PAIGE, well I thought that was just perfect (it's true there's an i in Paige, but still, close enough!!)
When I told the students that writers need to use the emotions they've experienced to bring their stories to life, I gave examples of some emotions: loneliness, sadness and feeling discouraged. A bunch of students raised their hands to add some more emotions -- and they had great ideas that I plan to use from now on when I do this part of my talk. Zoe suggested writing about ANGER. Good one, Zoe! Ethan suggested FRUSTRATED. Also excellent, Ethan. And Jonathan came up with DISGUSTED. Way to go, Jonathan!
Even though we were a huge group, the kids were focused and we even managed to do two writing exercises -- hey, that's more than I do with my own classes during one school period. I asked the students to imagine being someone different. Lucca came up with a really creative idea: "My name is Snarkolepsy. I am an alien soldier from the fourth quarter of Mars." Lucca, I want to read that story! I also told Lucca that the word narcolepsy (hinted at in his character's name) refers to a condition in which a person is constantly falling asleep. Lucca thought that perhaps he could add this fact to his character's story.
I also want to tell you about how my afternoon at Evergreen ended in a very special way. A student named Joseph told me that he had something inspirational to say, so I asked him to come to the front of the gym. He told his fellow students, "You is what makes you perfect. No one can stop you from achieving your goals." So, how about I end today's blog entry with Joseph's wonderful words?
Thanks to the teachers Madame Champoux, Madame Charland, Miss Jenkins and Miss Bowen, and to the aides Miss Shelley, Miss Serena and MIss Marie-Louise for sharing your kids with me; thanks to librarian Miss Tina for the invite and for getting things organized. But mostly, thank you to the kids. You were amazing!!