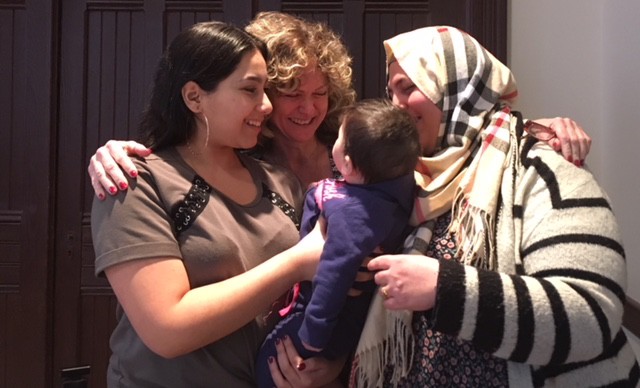 A busy woman like me should NOT be taking on new projects. But there have been a few over the last few weeks I could not resist. Like the Blue Metropolis Literary Foundation's My Roots. Last Saturday and again today, poet Marie Clark, photographer Pierre Charbonneau and I joined forces to work with a group of newly-arrived Montrealers. Our "students" will be contributing a chapter to a book that will be published by Blue Metropolis.
We've been doing our workshops at the St. James United Church, which also happens to be home to a remarkable organization, Montreal City Mission, whose goal it is to support refugees. (Special shout-out here to MCM community organizer Anwar Alhjooj for finding us such wonderful participants.)
Marie did haiku with the French-speaking participants. I worked on creative non-fiction pieces with those who preferred to work in English. I shared a few of my usual tips, but mostly I just let the people in my group write -- and they did amazing work (I'm going to share some excerpts soon). I did try two writing prompts. You know the expression "hello and good-bye"? Well I changed it up to "good-bye and hello" since all of my writers had to say good-bye to their homelands before they said hello to Montreal.
I had participants of all ages -- which also made the experience extra-special. In today's pic, you can see Aishea and her baby. Another person I want you to meet is Judy Alzubi (she's in the pic too). A Grade Nine student at Westmount High School, Judy, who is 14, turned out to be a natural translator. Judy came to Montreal from Jordan last February. She listened carefully, respectfully, and with incredible sensitivity as some of the paticipants, including Aishea, shared their stories in Arabic. Judy, you have a rare talent, one that I think is unusual in someone your age. USE IT! Also, I was a little surprised when you told me, "I have no stories." Of course you do! You're just too close to your own life to see the stories.
Okay, as promised, I'm going to share a few short excerpts from the work my group produced.
Jasim, who comes from Syria, wrote about what it felt like for him when his son was imprisoned and tortured. This is how he ended his poem: "Now, when I hold my son in my arms,/ That's the only time I can forget."
Juan, who is from Colombia, wrote about the nightmares he still occasionally suffers from: "before I open my eyes, I reach for the other side of the bed. There, I feel the beautiful skin of my wife; that delights all my senses. My wife, my daughter, and this beautiful country that has welcomed me, all make me feel at home. I came here to start again."
Aishea wrote about the joy of having her daughter: "When she smiles, she changes my world to happiness. Although I am sad that I have not seen my other children for three years now, I hope my baby's father will soon be beside us so he can see our daughter smile. For now, I am living here in Canada alone with my baby. It is the first time I have had to be independent. I didn't know that I could be so strong."
I hope the writers I worked with learned a little bit from me. I know that I feel changed by having been in their company. I thank you all for sharing your stories and working so hard on your writing. I am certain the readers of your book will feel just as moved and inspired as I do today. Shukraan! Shukraan, which means thank-you, also to Montreal City Mission, to my friends at Blue Met, especially project coordinator Andréa Perry.