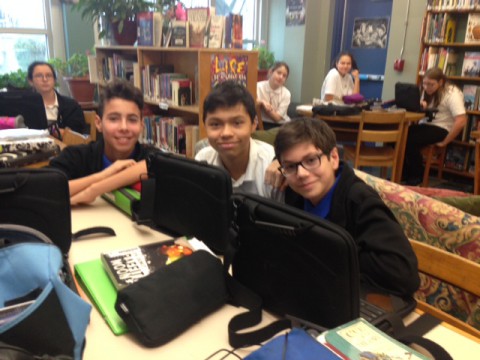 I'm just home from a happy morning at Lakeside Academy. Here's some of the reasons my morning was happy. The teacher who invited me to teach -- Miss Daigle -- was my former student at Marianopolis College. How fun to see what a great teacher she is, how her students both like and respect her. Second reason -- the library felt like home the moment I walked in (even if I knocked at the wrong door first!!). Third reason -- this was the first time I read my upcoming picture book text to a class (two classes in fact) -- and I think that though the text could be a little shorter, it worked. Which goes to show you that authors should always READ THEIR WORK OUT LOUD! And there's a fourth reason too -- I got to laugh! A student named Jayden (lovely young man by the way, I could tell he's full of important stories!) asked me, "How do you spell 'Revise'?" Because I was in a hurry to tell the students all my pointers, I told Jayden not to worry about how to spell the word -- and then his teacher, Miss Jones, said to Jayden, "You'll REVISE it later!" Thanks for the laugh, Jayden and Miss Jones.
I worked with three groups of students -- they included grade sevens, eights and nines, and also students from the school's pre-work program. In the second group, a student named Austin told me, "My whole family's shy." I told Austin that I think that would make an amazing title for a picture book. Just don't forget to add TROUBLE to your story, Austin. That also made me think of another idea for a pic book -- if it was about my family, it could be called "My whole family's NOT shy!!"
The last group were Ms. McCulloch's grade sevens. These students had amazing questions. Lisi wanted to know, "Is writing like acting?" No one's ever asked me that before, so I loved her question. I told Lisi that yeah, I think writing and acting have a lot in common. Both fiction writers and actors get to be other people, to try on other lives. I think that's partly why I love writing so much. Of course, writing is better than acting if you happen to be shy (though that isn't my case). A student named Khenyan asked, "Do you use dreams when you make books?" That question got me pretty excited because I'm a great believer in finding inspiration in dreams. That's why I take so many naps.
Finally, a student named Luca caught my attention because he just looks so smart. (That's him wearing glasses in today's pic.) He nodded with what seemed to be great understanding when I talked about the connection between lies and fiction. I told the students that in real life, I'm a terrible liar -- but that I'm a good liar when it comes to making up book stories!! And when we discussed how trouble helps FUEL a story, Luca commented, "So when you get in trouble, it helps you bridge off and make stories about trouble."
Now you understand why my morning was so happy. Thanks to the students for being wonderful, to the teachers, espeically Miss Daigle, for sharing your classes with me, and to my new friend librarian Miss Jenn!