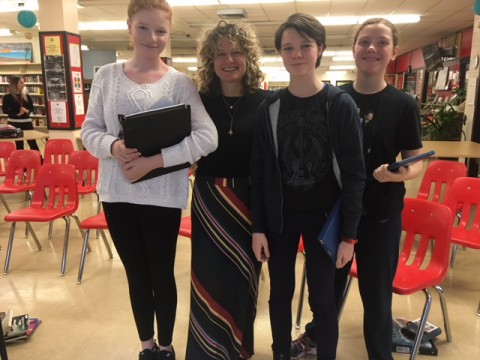 My week got off to a great start with this morning's visit to Lindsay Place High School. I was back at Lindsay Place, this time to do writing workshops with Miss Daigle's Grade 7 and 8 English classes.
In the first pic, I'm with (from left to right), Eden, Lauren and Kendra. More about them in a jiffy. First I want to tell you about Miss Daigle. I had the pleasure of teaching her in my Writing for Children class at Marianopolis College -- and though I'm not allowed to have favourites, well, let's just say it sometimes happens! Miss Daigle was a wonderful, engaged student, so I am not surprised to see what a great teacher she has turned out to be! It was obvious that her students adore her, and are eager to make her happy. I also like that she knows her students' strengths -- such as who is a fabulous reader, but is a little reluctant to get into writing. Anyway, it's a special pleasure for someone like me who has been teaching for more than 30 years to see a young teacher so comfortable and good with her students. It makes me feel less sad about the fact that I'll be retiring from teaching one of these days.
Okay, on to the kids!
I'll start with a student named Scott who asked me, "Are you the author? Are you a good author?" Scott's questions cracked me up. Then, because Scott realized why I was laughing, he quickly added, "Of course you're good -- or you wouldn't be here!" Nice save, Scott, and thanks for the laugh!
If you're a regular reader of my blog, you know I collect cool names for future book projects. Here are some names I collected today: Eden (see the photograph above), Jalen and Tmar.
Because we were discussing the importance of observation, I had one of the groups do an observation exercise. One student (she wanted to remain anonymous for this blog) wrote about a bracelet given to her by a friend. I love her use of detail and the emotion behind her observation: "It smells like mint and it's a bit dirty.... It reminds me of how strong I can be and that in the end, everything will be okay." Lovely, don't you agree?
As usual, I did a little observing myself. I made the Grade 7 group laugh when I pointed out that a student named Isaac looked like a teddybear. It turns out that lots of people say that about him. What's especially interesting (and story-worthy) is that Isaac knows quite a lot about some tough subjects. So he's an example of someone who probably isn't a teddybear through and through. In other words, Isaac, you should write your story!
Another person who should get writing ASAP is Afraa. We were talking about favourite pastimes (more good material for stories) and Afraa told me she loves to play soccer. Afraa wears a hijab, so I asked whether there are other girls who wear a hijab on her team. She told me she's the only one. Afraa, that has BOOK written all over it!!
When a student named Coby handed Miss Daigle something, I thought it was a secret note. (It turned out to be Coby's telephone.) But that gave me a chance to show the students how writers like me play a kind of game by asking the magic question WHAT IF? What if Coby was sharing information with Miss Daigle in a secret note? What if he had a stomach cramp and was asking permission to use the bathroom? See how the What if? game works? Authors use it all the time to advance their plots.
I'll be back at Lindsay Place on Friday for Part 2 of my writing workshops. Special thanks to the kids for being wonderful, to librarian Miss Dunning for being so welcoming and such an expert on all things related to books and reading, and to Miss Daigle for being the kind of teacher I most admire!