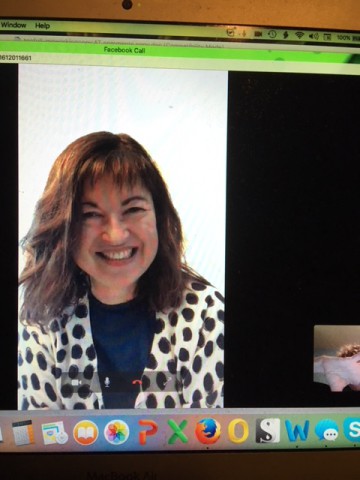 I just got off a Facebook video call (I didn't even know that was possible!) with my writer pal Karen Spafford-Fitz. We've been meaning to catch up for a while, and I decided I really had to speak to her after recently reading her latest YA book, Saving Grad (James Lorimer and Co.).
Saving Grad is un-put-down-able. It's the story of Vienna and her mom who are on the run from the mom's violent boyfriend Duncan. It's a story about friendship and new beginnings. Because of what Vienna has witnessed, she decides to implement "a strict no-dating rule." As she explains, "After our experience with Duncan, that's just how it has to be."
I asked Karen what made her decide to write a book about domestic violence. Her answer took me by surprise. "Even when I was in elementary school," she told me, "I was aware that some kids didn't have a safe place to go home to like I did." As I told Karen, when I was a kid growing up, I had no sense at all that these kinds of problems existed.
In Saving Grad an outreach worker named Jerome helps Vienna and her mom. Jerome first meets them in the Edmonton Public Library. Karen got the inspiration for Jerome from a real life social worker who does outreach work in the library because it's a place where homeless people sometimes come to find shelter -- especially on cold Edmonton days.
I first met Karen a few years ago when one of her daughters was studying at McGill University. Over the years, we've had a few really fun coffee dates. I guess some people just click. We always compare notes about our latest writing projects. Karen filled me in about her upcoming YA novel Unity Club. It's scheduled for release in fall 2018 with Orca Books and it's about a girl with a strong social conscience. I like it already!
And because I'm always thinking of you, dear blog reader, I asked Karen if she had a writing tip that I could pass on. Here's what she came up with: "Read read read! Write write write!"
Hope wherever you are that you found a little time today to read and write. I'm about to have a quick dinner -- and then curl up with a new book (I'm reading Tortues à L'Infini by John Green -- it's the French translation of his latest YA novel, Turtles All the Way Down. Happy reading and writing to ALL OF US! Thanks, Karen, for another wonderful conversation. Hope the next one will be in person!