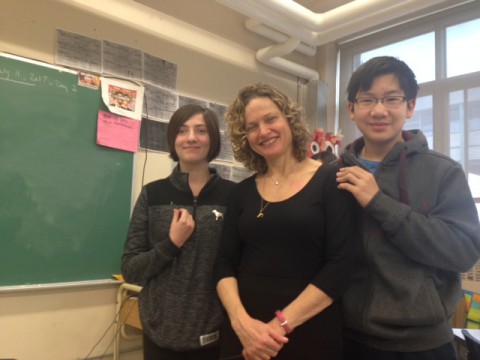 Hello, dear blog readers. If you're a regular reader of my blog, you'll know what a great woman my mum was -- and that her experience in a Nazi concentration camp inspired one of my novels. She had been in hospital for 3-1/2 months and she died peacefully early Sunday morning. I tried to visit every day (I only missed four days) and I read a lot to her from the poetry book my grandparents gave to me when I was a little girl. I like to think that poetry (like me, my mum loved words) brought her a little solace at the end of her life.
Today, I was scheduled to do the first of four writing workshops at St. Thomas High School in Pointe-Claire -- and though I had the option to postpone the visit, I had a hunch that it would do me good to be with teenagers and to talk about writing, and about how my mum's story shaped me as a person and a writer. And you know what? My hunch was right. So I'd like to start today's blog entry by saying thank you to every single student I worked with today, to your teachers and to my friend, librarian Mrs. Pye, for your kindness and open hearts.
I'll be working with eight Grade Nine classes at St. Thomas, and I'll get to see each class twice. That gives me time to cover some basic writing tips, and also to get the students writing.
In today's pic, I am with two students named Sydney and Nelson. I asked Sydney about the piece of plastic I happened to notice her chewing on -- and it led to the discovery of a sweet story. The plastic turns out to be what was left of the price tag on the grey top she was wearing. So, I demonstrated to Sydney's class (taught by Mr. Katz) some investigative reporting. Here's what I learned: the top was a Christmas present from Sudney's grandmother; her grandmother picked the top out personally; the top is made by a company called Pink; and here comes my favourite part of the story (a quote from Sydney): "My grandmother understands what I like." So, you see, all from a little tag I learned quite a lot about Sydney's relationship with her grandmother.
I also worked with two of Miss O'Neill's classes. I asked a couple of students' permission to share here what they wrote about remembering trouble. A student named Destiny came up with a haunting line to describe an experience when she was in Sec. I: "I had no one." And a student named Gabriel wrote about feeling, "Disappointment... the struggle of them not seeing what they were doing." I think Destiny and Gabriel should expand the pieces they started on today, don't you?
I also enjoyed reading something written by Abby, a student in Mr. Cloney's class. Abby started off her memory of Sec. II by writing, "I got in trouble on a daily basis." I definitely wanted to keep reading that paragraph! I also got a chuckle (always a good thing for a reader) when Abby recalled being sent to a school administrator whom Abby and her friends called "Dragon Nose." You know, Abby, they say it's harder to make a reader laugh than to make him (or her) cry... even from your little paragraph, I have the sense that you have a talent for humorous writing. Use that talent!
I'd like to end today's blog entry by telling you about a student who wasn't even in one of my workshops. Anna, a tenth grader (I'd met her when I visited the school last year), popped into the library to help put plastic covers on new books. When Anna asked how my holidays were, I told her the truth: that my mum had been sick and that she died on Sunday. I added that my mum -- despite her early difficulties -- had had a long, great life. And you know what Anna said? "That's awesome!" Thanks, Anna, for your wisdom and optimism. I phoned my dad to tell him about you.
I'll be back at St. Thomas tomorrow, then on to Ecole Secondaiare de la Seigneurie in Quebec City on Friday. Happy new year to you, dear blog reader -- here's to awesome-ness.