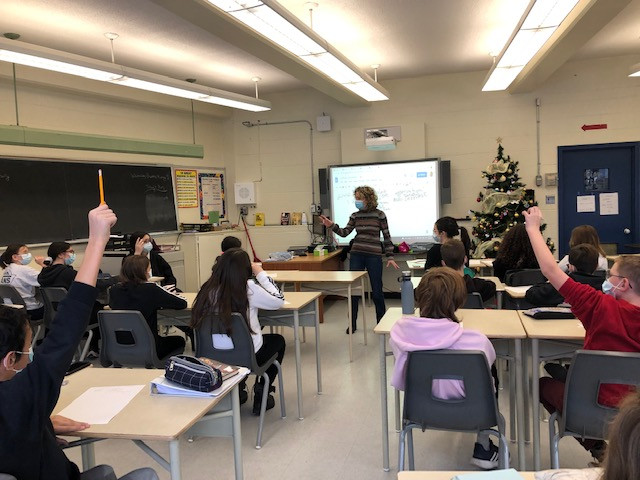 Now I don't think I've ever used the word "heavenly" in a blog title before!
But it's the closest word I could come up with to tell you how wonderful my morning was with Ms. Lawrence's and some of Ms. Sacks's Sec. I students at Rosemere High School -- plus there was Erica, a special guest from Sec. IV, who let me share her desk and told me, "I really want to pursue a career in writing."
Usually, when I write a blog entry about a school visit, I start with my observations, then end with some samples of what the students came up with during our writing exercises. But today, because the writing was so extraordinary, I thought I'd start with that! Also because my workshop was nearly three hours long, there was time for the kids to do a lot of writing exercises. I think we did four in all! Yay moi, but especially yay for the kids!!
Okay, it's time for some of those writing samples. What do you think of the opening of Alex's story: "I love hamburgers. Actually, I think hamburgers are the best thing that ever happened to me"? I LOVE IT. Great humour, Alex, and I already feel I am getting to know your funny, clever narrator! When I asked the class to write a book blurb for the book they most want to read, Massimo came up with the following blurb: "a book about my life and how I got successful." Yay, Massimo -- go for it! And Zakary (okay, I'm not allowed to have favourites, but let's just say Zakary stole my heart today!!) wrote about imagining himself in the future, working as an automechanic. Except when you read what Zakary wrote, you'll agree that sure, he should pursue his dream of becoming an automechanic, but he'd better be a writer on the side! That's because he wrote: "The smell of hot metal and gasoline tickles my nose. The feeling of a rubber tire or a big chunk of metal in my hand..." See what I mean? You almost make me want to become an automechanic, Zakary!
The thing about these students' writing -- and maybe it's because most of them are twelve years old -- is they have a confidence and a freedom that I don't often see in my college students. I told today's class to try never to lose those feelings, and that pleasure they take and ease they have in putting words on paper. Honestly, they inspired ME -- when really, I was invited to Rosemere High to inspire them!!
And now for a few random observations. If you know me, you know I'm OBSESSED with body language. So when I noticed a student named Mattéo playing with his hair, I remarked on it. Mattéo said, "I play with my hair when I'm thinking a lot." Of course, I grabbed my pen and wrote that down! That's because I also love to listen for, and collect dialogue -- sometimes for using in my books. I think in the next story I write, I will have a kid who plays with his hair when he's not just thinking, but thinking A LOT (which is even better!)!!
Yasmine told me that though she was 20 minutes late to the workshop (she had a science test), "I took three pages of notes!" That made me happy, Yasmine! Alex, who wants to be a writer when he grows up, had an excellent question: "How do you start?" I explained that some writers do a lot of advance planning; others just dive in. When there's a lot of research to do, I start with that,.. but to be honest, I'm more the diving in sort. So I told Alex, "Think of the Nike ad -- Just do it!"
Another heavenly thing -- I had met several of the students a couple of years ago. That's because they were in Ms. Fraser's class at McCaig Elementary when photographer Thomas Kneubuhler and I worked with the group to produce a chapter for the Blue Metropolis Quebec Roots book! And one more heavenly thing, a student named Zoe told me her Grade One teacher was a writer too -- so I said, "Was it Jennifer Lloyd?" -- and of course it was! I'm proud that Jennifer's my friend too!
Okay, thanks to Ms. Lawrence for the invite. You do amazing work with your young writers! Great to meet you today, Ms. Sacks. Special thanks to my new friend Kaylie (did I spell that right? If not, someone send me the correction!) -- whom I got to meet even before today's workshop started. And thanks to all the young writers. Just promise me one thing -- that you'll never stop writing!!