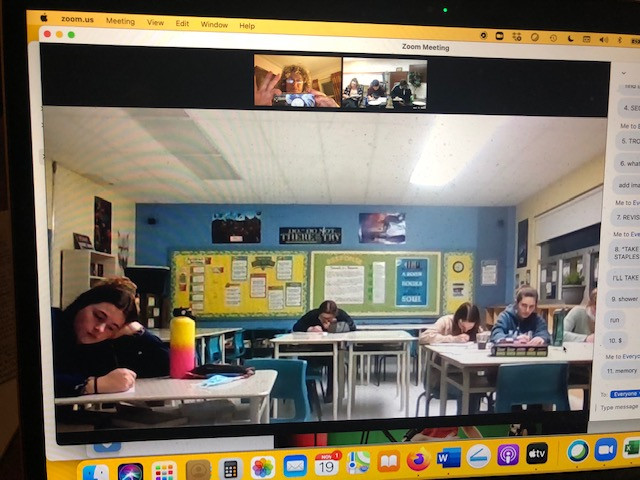 I bet you don't know too many teenagers who would turn up for a writing workshop at 4:30 PM on a Friday afternoon! But I do!
Yesterday, starting at precisely 4:30, I did a Zoom writing workshop for English-speaking high school students living in Val-d'Or and Rouyn-Noranda. The workshop was organized through a partnership between Neighbours, a community association based in Rouyn-Noranda, and the Atwater Writers Exhibition here in Montreal. In all, I had seven participants -- and they were amazing. And okay, I have to admit they didn't come just for me -- they also got pizza, which they seemed to enjoy a lot!
We had ninety minutes together, which giave me time to share writing tips, tell a few quick stories, and get the students writing. As usual, I took notes too.
I thought it was funny that I met one student's hands before I met her. That's because on my screen, in the left bottom corner, I spotted a pair of hands -- and the fingers were moving around a lot! That was my introduction to a student named Kim -- who turned out to have a beautiful, profound idea for a story (which I'm not going to tell you about. Kim, get to work! It's great!)
When I found out that two of the students (who are friends and were sitting together) were both named Aaron, I suggested they might consider writing a story called "The Two Aarons." I like the title a lot, but I wouldn't be the right one to write that story. The Aarons have way better material to tackle that task than I do!
During the writing exercise, Aaron #1 came up with the idea of writing about a family reunion -- lots of interesting possibilities there! Aaron #2 wrote about getting a dirt bike that stopped working after two days. How a character would react to a broken dirt bike so soon after getting it also has great story possibilities!
Chloe came up with the idea of writing about a girl who remembered having been close with her older brother. Catherine was interested in the subject of nostalgia -- which I thought was deep and unusual since we usually associated nostalgia with old people looking back. But why not write about a nostalgic Sec.II student? And Sandrine wrote about a birthday party that was less than perfect. As I told the group, TROUBLE makes stories move forward.
As you can tell from this blog entry, my pizza-eating friends gave me a lot to think about yesterday. Oh, I should mention I also met teacher Lisa Silver -- now she works in Val d'Or (which, if you need the English translation, means Gold Valley)... I love the idea of a story about named Ms. Silver who works in Gold Valley. Don't you? And the youth coordinator for Neighbours also attended our workshop. She has a great name too: Laurie Boast. Laurie, if you don't mind, I think I need to steal your last name for a story!
Thanks to all the participants, including Ms. SIlver and Ms. Boast who did the writing exercise too! I had a great visit with all of you. Write and read ... and stay in touch! Thanks to Neighbours and the Atwater Writers Exhibition, and to my friend, author Elise Moser, who also helped arrange yesterday's visit.