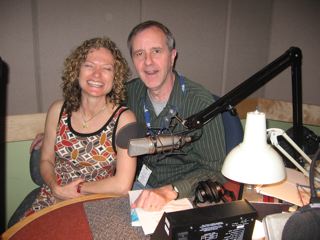 For proof that I scrinch my eyes when I'm happy, check out today's pic!
That's me with CBC Radio's Dave Bronstetter. Dave interviewed me for his show All in a Weekend. The magic thing about Dave is that he makes a person forget she's being interviewed -- that's because she's having so much fun just chatting with him.
The first thing Dave asked me (this was in the hallway, outside his studio, before we started taping) was: "How's your mom?" I wasn't the least bit surprised. That's because Dave had me and my mum in studio in 2008 when my book What World Is Left first came out. (That novel is based on my mum's experience in a Nazi concentration camp.) Anyway, let's just say my mum stole the show -- and Dave's heart. (She's nearly 82 now, and has not lost her way with men!!)
Today, Dave interviewed me about Miracleville, which is being launched here in Montreal on Tuesday, May 17. We had a wide-ranging conversation about everything from religious souvenirs to faith and courage.
In my Journalism course this term, we talked about what makes a successful interview. Now I realize I should have told my students that their goal should be to make the interviewee feel so comfortable that he or she forgets he (or she) is being interviewed. So, thanks to Dave for that lesson and for letting me talk about Miracleville. Thanks, too, to producer Jill Walker, for her behind-the-scenes assistance (and for taking today's pic).
You'll need to get to bed early on Friday and Saturday nights, if you want to catch Dave in action on All in a Weekend. The show airs from 6 to 9 A.M. Alert to all you sleepyheads out there: it's well worth waking up for!
PS: Just to let you know that Dave's interview with me will air on Saturday, May 14 at 8:40 A.M. If you're in the Montreal listening area, you can find CBC at 88.5 on your FM dial.