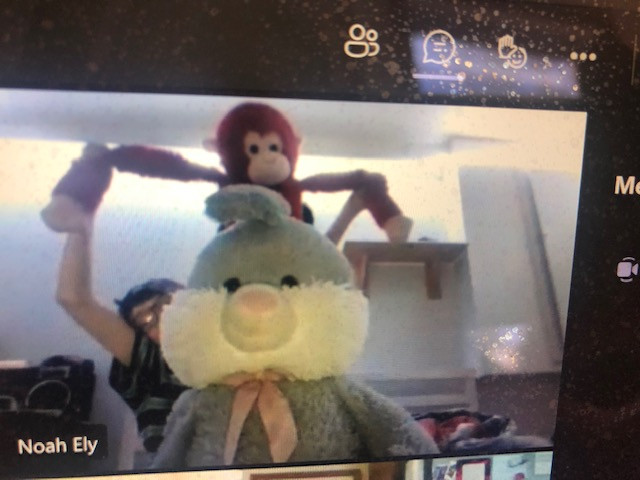 I knew I'd catch your attention if I told you the Easter Bunny attended my virtual writing workshop today with students from Onslow Elementary School in Quyon, Quebec. Which is why I have included photographic evidence!
I did laugh when I looked at my Zoom screen at 8:20 this morning and spotted the Easter Bunny! Because the students live in the Gatineau region, one of our "red zones" in Quebec, they are having fully on-line school this week. I must say they are a spirited bunch -- witness Noah AKA the Easter Bunny!
I worked with all three classes last week, so today was Part 2 of my workshop. I started the day with Ms. Savard's "Awesome Grade Fives" (that's what she calls them!). Since the students will be interviewing someone for this week's writing assignment, we reviewed interviewing techniques -- such as try to get your interview subject to drink something warm (like tea) so that he or she will tell you some secrets! Jeffrey said he plans to interview his grandmother whose dad was in the war. Jacob wants to interview his cousin, who lives with him. And Ruby asked, "Can we interview our pet?" That question made me laugh -- but I also decided that another fun assignment would be to interview a pet. For instance, imagine what your dog would have to say about the pandemic. Or your cat. (I've heard that dogs enjoy the extra company, but that most cats are annoyed their people are home all day, interfering with a cat's habit of sitting in the window and catching some rays!)
Next up was Ms. Peck's Grade Six class. These kids were real characters. They included Noah AKA the Easter Bunny! Ms. Peck's class is also working on an interview assignment this week -- they'll be turning their interview into stories. Ms. Peck had a great question for me; she asked, "how do you write up your story so it doesn't sound like a biography?" My answer was that the best way to avoid writing that sounds like an old-fashioned biography is to focus on SCENES and MOMENTS. If someone wants to read a simple biography, they can go to Wikipedia! We creative writers sometimes take real stories (like the ones we get in interviews), and focus on moments that are odd or funny or heartbreaking. We also sometimes make stuff up!!
I finished my visit to Onslow with Ms. Villeneuve's Grades Three and Four class. I was telling the students how I had a close encounter with a butterfly this weekend -- he got trapped in our screened-in porch and I helped him out... and I was saying that is a little scene I'd like to use in a story some day. Then I told the class that they need to use all their five senses when they write -- and a student named Hayden wisely observed, "I do not want to eat a butterfly!" Ms. Villeneuve's students are writing about the saddest moment they have experienced during the pandemic. Harlow shared her work-in-progress with the class. She is writing about how sad she felt when her hamster died. "I had a funeral for my pet hamster," she told us. I know it's a sad story, Harlow, but I think it would make a beautiful piece of writing. I've never been to a hamster funeral, and I'm curious to learn what it is like.
I'll end today with another fun, zany moment -- in keeping with the surprise appearance of the Easter Bunny! At the end of my second workshop today, I heard Ms. Peck tell her students, "You don't have to do any writing today." And then I heard a voice -- I don't know whose! -- say, "Thank god!" Which also cracked me up.
So, I really need to say a big thanks to the students at Onslow for making me laugh, and for having spunk. But hey, you do need to write -- like it or not!! It's like a multi-vitamin -- it's GOOD FOR YOU! Thanks to the teachers for sharing your classes with me. And thanks to Culture in the Schools for making my visits to Onslow possible. May we remember the Easter Bunny all year long!