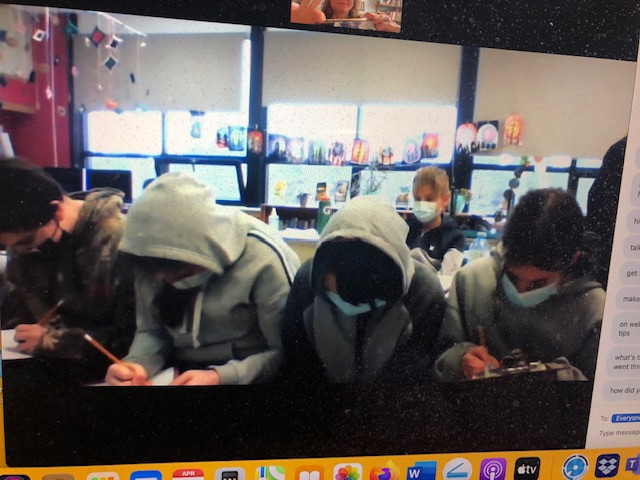 Today's pic makes me super happy!
Check it out!
Writers writing during a pandemic!
I did three virtual writing workshops today for students in Grades Three to Six at Onslow Elementary School in western Quebec. Those are some of the Grade Six students writing (about the pandemic, of course!) during today's writing exercise. I have to admit that early in the day, the students were ... well... a touch wild -- and then I learned that they had just been informed their school is about to be closed for eight days on account of the pandemic. They'd already packed up their belongings. No wonder they were feeling a little all over the place. I did my usual writing tips, and I tried my best to keep them on track -- but then the wonderful thing happened... I gave them a writing exercise, and they all got to work quietly and in a focused way. Look at today's photo again for proof.
Which helps demonstrate something I believe -- writing helps us cope. Writing can help us make sense of difficult, overwhelming times. If my exercise helped those students settle down, well, I feel like I have the best job in the world. I can pass on the benefits of writing, of taking the time to put our thoughts and feelings into words.
As usual, I'll share a few highlights of my day. One was meeting a Grade Six student whose name was Campbell. "Like the soup," the student's teacher, Ms. Peck, called out. I asked Campbell whether she'd ever seen Andy Warhol's famous painting of the Campbell soup cans. She said she hadn't. Check it out ASAP, Campbell! It's made for YOU! When I told the Grade Sixes that reading books is an important part of a writer's job, that it's like tasting food if you're a professional chef, a student named Noah said, "I don't know how to make food. I burn milk." Which gave me a chance to talk about TROUBLE and how trouble helps fuel a story. I wouldn't mind reading about a kid who burns the milk while he's trying to make an omelette.
A student named Kori demonstrated how playing with words can be fun. "What," Kory asked, "if you have a character named Mayo, and you call the character May for short?" I like that! Esepcially the Mayonnaise part!
During my session with Ms. Savard's Grades Four and Five students, I had to laugh when I saw a student hunched over at the back of the room, sneaking over to another desk. That's because I had just asked the students to try and stay in their desks during my talk. But honestly, the sight of this shadowy figure creeping along... well... it's something I could use in a book. As I told the students, we writers look for details that are odd, funny or sad. I'd say that creeping was odd and funny!
I ended my day with Ms. Villeneuve's Grades Three and Four students. It was hat day in Ms. Villeneuve's class, and when I asked about it, she explained, "They earned it because the students worked well." These kids worked well for me too. And even if they're the youngest ones I worked with today, I decided to give them a tough exercise -- to remember their saddest day so far during the pandemic.
I was delighted that several of the students wanted to share their pandemic stories. Luka wrote about staying in bed for three hours and of having nothing to do. Jessop wrote about being worried her friends would catch COVID. Molly wrote about having a new baby cousin -- and only being able to see him through a window. All beautiful, moving memories.
I'll end with Ethan's story: "When I got up, i forgot about the pandemic. Then I heard my parents talking about it. Then I told myself, 'Never give up!'"
I'd say that was a pretty special ending to a lively day. And a perfect ending for today's blog. Thanks to all the kids and their teachers for doing your best on a challenging day. Let's all try to be like Ethan -- and never give up.
I'm scheduled to work with the Onslow students again next Tuesday. If all goes well, they'll be joining me from their homes. More pandemic stories! Till then, everybody, stay safe, rest up, enjoy the long weekend. As we all keep saying in Quebec, Ça va bien aller!