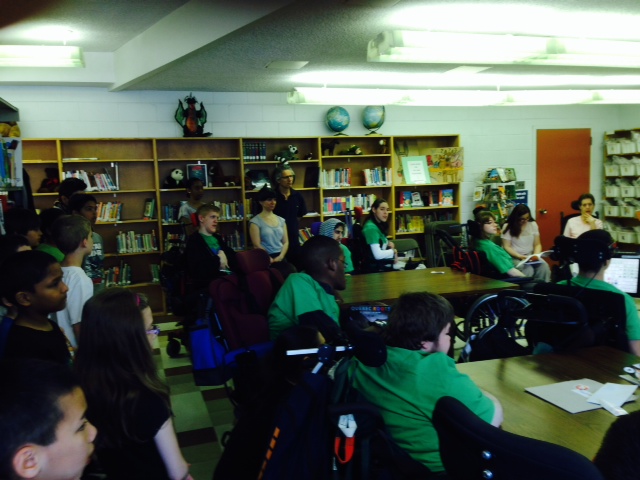 Today I thought I'd devote my blog entry to the subject of courage and tell you about a group of students who've taught me a lot this year.
They are Sebastian Piquette's students at Mackay Centre School at Westmount High School. Most of them happen to be confined to wheelchairs, but once you hang out with them (as I've had the pleasure of doing this year), you forget about their disabilities -- and look instead at their abilities.
Sebastian's class contributed a chapter to this year's edition of Quebec Roots: My Community, My Values. This project is sponsored by the Blue Metropolis Literary Foundation and it brings a writer and photographer to schools across the province. Photographer Monique Dykstra and I helped Sebastian's students tell their stories through words and photographs.
The class wanted to write about what it's like to be in a wheelchair and well, you'll need to read their chapter to understand how powerful it is. But here's a little taste. It comes from the opening of Samantha Chate's poem, "Sam's Chair": "Just like people recognize other people's footsteps, I recognize the sound of people's wheelchairs. I can hear when someone is driving slow or fast. I know whose chair squeaks."
Beautiful, no? And I think what makes it beautiful is that it's simple, true and a little bit surprising to the average reader.
In early May, Sebastian's class joined other students who participated in this year's Quebec Roots project for a launch at the Blue Metropolis Literary Festival. Yesterday, there was another launch party at Mackay Centre. Every time I am with these students, I learn from them. They do not feel sorry for themselves, they face their lives with courage and humour. So here's to Neville Blair, Ryan Cave-Beninger, Mikisew Dubé, Abdullah Farooq, Justin Febrile, Nafeesa Qureshi, Margot Vignal, Niko Yannakis, and their wonderful teacher Sebastian Piquette, as well as the rest of the team at Mackay. I love you guys!