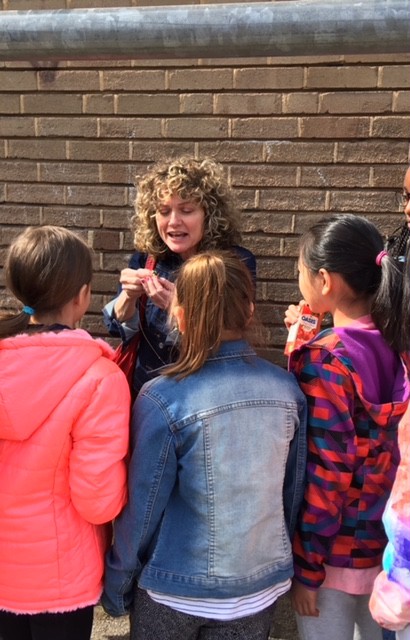 If you're wondering what I'm doing OUTSIDE in today's pic -- let me explain. To kick off the Blue Metropolis Children's Literary Festival this year, I was invited to do a school visit at Ecole St-Germain in Outremont, where I worked with Miss Marie-Sophie and Miss Caroline's grade five classes. And because the hour went by so quickly, I agreed to meet up with the kids in the schoolyard during recess. To be honest, I was a little worried that I wouldn't have any customers, but there were lots of kids!!
In the pic, I am showing the students my monkey man necklace -- if you know me, I'll have told you that story too! (It's coming out in book form next year!) But I was really at Ecole St-Germain to discuss my latest book, Princess Angelica, Camp Catastrophe. I told the students how the book was inspired by something that really happened to me when I was in summer camp -- at exactly their age!
The students had super comments and questions. When I showed them the book I write in every morning, a student named Luca asked me, "Your thing? Is it a diary?" I liked how Luca put this question. I explained that in English (most of these kids' first language is French), the term "your thing" can mean the thing you really love. So, yes, Luca, that book is definitely my thing since I love writing (even if it's hard work).
When I explained that I write three pages in that book every single morning, a student named Clarence remarked, "I don't have enough ideas to fill three pages." I told Clarence, YES, YOU DO! And I suggested some approaches she could take to writing -- she could OBSERVE, explore her FEELINGS, and REFLECT. I also pointed out to Clarence that she doesn't need to write three whole pages. The important thing is to make writing a habit -- so she could write say a quarter of a page three days a week. (The exact formula is up to her.)
A student named Henri made me laugh when I mentioned the word TROUBLE -- because he said, "Trouble! Oh ya!" I told Henri my personal view -- that it is better to stay OUT OF TROUBLE, but if trouble ever happens to you TURN IT INTO A STORY.
And here's my favourite French word of the day. I know, I know, I wasn't supposed to be speaking in French -- or taking notes about French words, but well, I couldn't resist. I was explaining about the importance of writing MANY DRAFTS, and a student named Daniel commented, "Oh you mean BROUILLON." I knew that word, which is French for rough draft, but I hadn't thought of it in a long time. And don't you think the word BROUILLON sounds much nicer than plain old ROUGH DRAFT?
Thanks to the Blue Metropolis Literary Foundation for sending me to Ecole St-Germain today; thanks to the teachers for sharing your students with me; and un grand merci aux élèves for being wonderful!