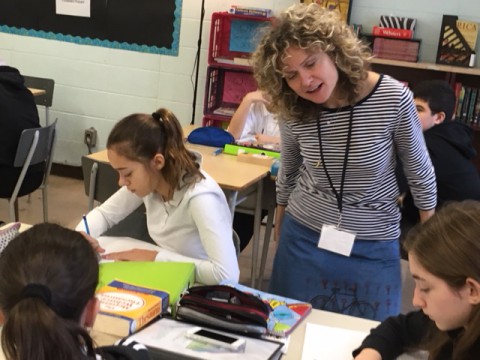 There's something special going on at Laval Junior Academy. This is how I know: the kids I worked with today actually like doing writing exercises. Usually, even in my own classroom at Marianopolis College, the students groan when I tell them they're going to be doing in-class writing. But this morning, when I was working with Miss Milea's Grade Seven class, a student named John asked for MORE WRITING EXERCISES! (YAY!!!)
This was the first of four days of writing workshops I'll be doing at LJA. I'm also working with Miss Farrell's students. Miss Farrell and I go WAY back -- we met when I came to Mother Teresa High School (that was the former name of LJA) for a Blue Metropolis Literary Foundation project.
I spent the morning with Miss Milea's classes (one Grade Eight, then the Grade Seven group), and I finished the day with Miss Farrell's Grade Seven class. As usual, I have lots to tell. Often, I tell you funny stories about my school visits, but today, I have EDUCATIONAL STORIES for you. Here goes.
In the first class, two students were teasing each other. It all started when a guy named Nicholas called out, "Can you write a book about me?" Then a student named Jeffrey called back, "There isn't much to tell." Nicholas wasn't going to let the matter rest at that point, so he retaliated by shooting back, "Rapunzel!" (This was a referene to the fact that Jeffrey wears his hair kind of long.) Now here comes the teaching moment. Because I found the conversation funny, I started taking notes. I was asking Nicholas exactly what he'd said when another student named Lucas piped in: "There's already a book about Rapunzel." What's interesting is that when I investigated a little further, I learned that that wasn't exactly what Nicholas had said. (He'd just called out the name Rapunzel.) So what happened is that Lucas REWROTE the conversation. There's my first lesson for today: writers need to rewrite. (So do storytellers!!)
Second lesson came in the second class. And hey, it also has to do with rewriting. I asked the kids, "What do I do when I finish my first draft?" (I was looking for the answer "Rewrite.") But instead, a student named Luca (not to be confused with Lucas from the first class) answered. "Reread." Then a student named Alexia answered, "Add." Then I added "Subtract." And finally a student named Emanuele said, "Rewrite." But you know what? All those answers together really explain the rewriting process. First you have to REREAD. Then you may have to ADD material. You will certainly have to SUBTRACT material! And that process is called REWRITING.
Miss Farrell's students were a lively bunch, to say the least! I asked if any of them hate their first drafts. Sarab, Peter, Giulianna, Massimo, Trinity, Dante, Ryan and Ahmed all raised their hands. I told them that was great news. If you hate your first draft, you could be a real writer!!
I don't usually give homework when I do school visits, but since I'll be seeing Miss Farrell's students FOUR TIMES, I decided I could! So I've asked them to find an old person (I suggested starting with a grandparent, but told them that if they don't have a grandparent, they should just go ahead and borrow someone else's!) and find out their SECRET. (Secrets make great stories!) I suggested they ask two questions (after some chitchat, and a cup of tea -- warm drinks tend to make people tell us more stuff). My questions are: 1. What is the hardest thing you ever went through? and 2. How did you get through it?
I'll be back at LJA next week. Do you think Miss Farrell's class will uncover some secrets for me by then?
Thanks to my friends at LJHS for a great day. Thanks especially to Miss Milea and MIss Farrell for being wonderful -- and for sharing your kids with me.