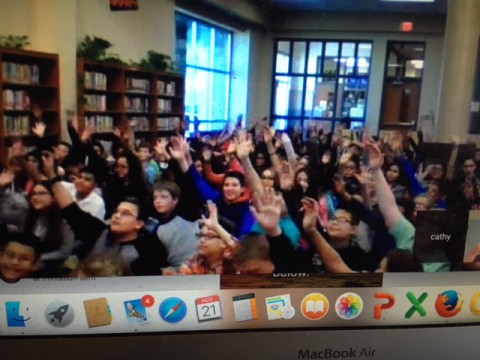 Okay, so my dad and I weren't really IN Dumas, Texas this morning. But thanks to Google Hangouts, we got to hang out with two groups of wonderful Grade Six students who go to Dumas Intermediate School.
I've "been" to Dumas before -- that's because the Grade Six kids at DIS do a unit on the Holocaust and they talk about What World Is Left, my historical YA novel based on the story of my mum's experience in a Nazi concentration camp.
My mum died last January, and so this was my first "visit" to Dumas without her. But I felt her spirit close. She used to get such a kick out of meeting the students (always remarking on which boys she found handsome) and sharing her message that the one thing the Nazis could never take away from their prisoners was hope.
In my sessions with the kids, I did a little talk about writing in general -- I told them how I love to do research and how I'm obsessed with the question WHAT IF? I also talked about REWRITING. I explained that when I was in Grade Six, I already wanted to be a writer. But every time I sat down to write, I hated whatever I wrote. So I asked the kids in the second group today, "Does that happen to any of you?" Now go back to the pic at the top of this blog entry -- see those kids raising their hands? They're saying that yes, they hate what they write too. I told them that's a VERY GOOD SIGN!! If you hate your first draft, you might be a writer. That's because good writing requires many drafts. I also told the kids that even now, after having published 21 books, I still HATE my first drafts. If only I'd known all those years ago that that feeling of dissatisfaction is essential to the writing process.
After I shared a few basic writing tips, we moved on to discussing What World Is Left and my mum's experience. I told the kids that despite having lived through hellish conditions, my mum never became bitter. She had a great sense of humour and everything that I know about storytelling I learned from her. She was also unusually free -- I think because living through such difficult times gave her a sense of what really mattered in life.
There was time for questions -- and the kids had prepared loads of thought-full questions for me. Victoria wanted to know if I ever think about stopping writing. I told her that ya, I consider stopping writing every day. That's because I find it so difficult. But then, I turn back to my computer and get back to my story. Maybe I just enjoy doing difficult things.
A student named Aleena asked me what I would have felt like had I been in my mum's place. I adored that question because it gets to the heart of the writing process. When you write fiction, you imagine yourself in another person's "shoes." That's especially true for writers like me who work mostly in the first-person. Writing from my mother's point-of-view helped me understand not only what she had experienced in Theresienstadt, the Nazi concentration camp where she was imprisoned for nearly three years, it also helped me understand why my mother was the kind of woman she was.
My dad said hello to both groups of students too. I think he felt good that my mum's story is still out there in the world, reaching young people. I know I feel good about that.
I reminded the students that stories are everywhere. In a way, stories are all we can really leave behind. And listening to someone's story, perhaps turning it into a book the way I do, is a great privilege.
It was also a great privelege for me to travel to Dumas today. Many many thanks to Mrs. Craigmiles and Mrs. Artho for making it possible. Also thanks to Mr. Rhodes, the school's principal, for being present. (I will say that principals looked a lot scarier when I was a kid!) But most of all, thanks to the students. Remember what my mum said about never giving up hope. I hope you get to hear lots of great stories, and that you use some of the tools we talked about today to pass them on. Love from Monique