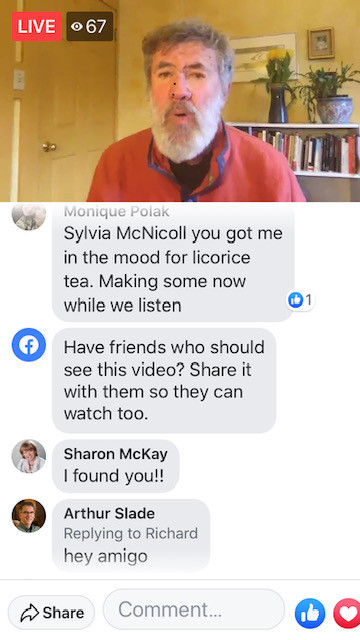 I've been to loads of book launches, but never a virtual one. And never such a fun and interesting one as Tim Wynne-Jones's launch for his new short story collection, War at the Snow White Hotel and Other Stories. Which is why, while it was going on this afternoon, I knew I had to take notes for you, dear blog reader.
So Tim read the first story in his book -- it's the one that gives the collection its title. I don't want to give too much away, but the story has two bullies in it, delightfully named Buzzcut and Squirrel. And just when Rex, the narrator (fans of Tim's work will recognize Rex) gets into deep trouble, he hears the Roy Orbison song "It's Over." (I couldn't help LOL'ing when Tim read that part.)
Tim, who's won the Governor General's Prize, is probably Canada's most famous chilidren's writer. And though he could be snobby, he's down-to-earth and super fun and funny. (And he's even come to my house for supper!)
Anyway, after his most amusing reading, Tim answered questions which we posted on line. That's when I started serious note-taking!
Here's what i learned today from Tim:
He talked about the importance of story during this pandemic. (This was in response to my favourite question, posed by his son Lewis.) Tim said, "I'm chain-reading -- lighting the next book after the last one. Stories resolve themselves. In a time of chaos, [we need] ... stories. Keep telling each other stories!" (That advice totally made my day.)
He said about fairytales -- this came up because, as you figured out, the story of Snow White and the Seven Dwarves helped inspire Tim's new collection -- that "they are the DNA of stories. They can lie around for centuries -- just add some water."
He also compared what we are currently living through with war. "For our generation, it's our first war. But it's such a weird enemy. It's really hard to hate a string of proteins with a furry jacket on." Can you tell from the way Tim expressed that thought that the man is a writer?!
He told us that sometimes, when he's asked where he gets ideas from, he tells kids, "I get my ideas from the idea store." That made me very happy. I love the idea store too -- and you don't need to wear a face mask when you shop there!
Asked about the difference between writing short stories and novels, Tim told us, "Basically, I'm a novelist. In novels, things keep getting worse and worse and worse." I loved that too -- and if any of my own Writing for Children students are reading this blog entry, you may be able to connect Tim's comment with our ongong discussion about the necessity of trouble in stories!
Tim thinks we need more short stories for young people. Like Edgar Allan Poe, Tim likes the idea of a piece of literature that can be read in one sitting. "I think," he told us, "that a really solid short story is a great thing for a young reader."
You know what else is a great thing for a young reader -- and an older one too? It's the chance to spend time in Tim's company. You can do that by reading one of his many many fine books. And if you're on Facebook, visit Tim's author page
. You should be able to catch a recording of today's launch there!