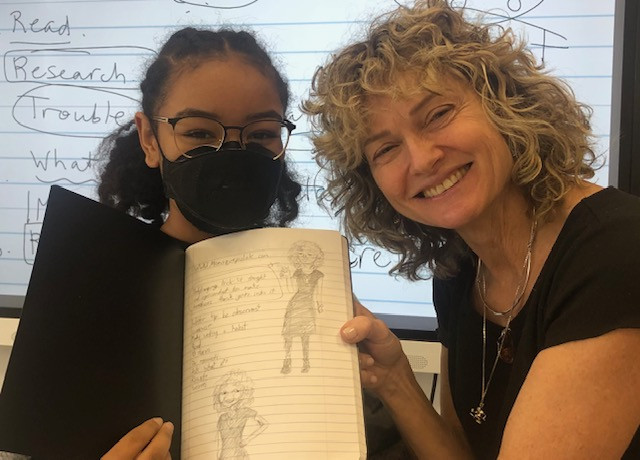 The title of today's blog entry is "Lots Happening This Morning at Westmount Park Elementary School" -- hey that's becase I was there!! But really, Westmount Park Elementary School is quickly becoming one of my favourite schools. You can feel the fun and learning going on in that building!
I started my day with students from Grades One and Two. A second grader named Deekshitha got my day off to a good start when she told me, "I read a book and it was by your name!" I was invited for today's school visit by Ms. NIcole, so I worked first with her students, and also Ms. Arielle's and Ms. Dirya's. We also had great helpers named Carmela and Daniela.
Deekshitha and a student named Pratik offered to take notes for their classmates. We covered the basics of writing -- that the kids need to practise their reading and writing, that trouble adds life to a story, and that the real work comes during the rewriting phase.
I was delighted when a student named Sadn told me, "When I grow up, I want to be a storyteller. I've wanted this since a long time ago. It makes me feel unique." Wow! I love Sadn's plan and I also love that she used the word UNIQUE, which is a beautiful-sounding word, and also not the kind of word you'd expect to hear from a student in Grade Two.
After recess, I worked with Ms. Sabrina and Mr. Gaspirini's Grade Six classes. Let's just say these students were a wee bit harder to manage than the Grade One's and Two's!! During the first half hour of my visit, I had to shush them several times, but they became ANGELIC during the second half hour! PHEW! I think I might have got their attention by telling them the story of my monkey man charm. Also, we had an excellent discussion of -- about all things -- are you ready? ERASERS!!!
It turns out that several students in the class have brought their erasers with them from other countries. Gusd brought his eraser (quite dirty I noticed, which means he must do a lot of erasing, which is great because it means he is REWRITING!!) from Belgium; Mahanya and Asmee brought their erasers from India; NIls's eraser comes from France; and Kian's eraser (on the end of his pencil) comes from Iran. "This pencil has gone through a lot," Kian told me.
Today's pic makes me happy. A student named Deréon came up to me at the end of my workshop and showed me her notes -- and that she'd drawn a picture of me. I thought it was an excellent likeness! What do you think?
I don't know about you -- but I'm thinking about ERASERS!! There is a lot to say about erasers, but I never realized they could tell us so much about the world, and all the places students come from.
Thanks to Ms. Nicole for bringing me to Westmount Park Elementary School today. Thanks to the teachers and helpers for sharing your students with me. Thanks to the kids. You've given me lots of story ideas (even if I had to shush too much during that first half hour with the older kids!!). Hope I gave you some writing ideas too!