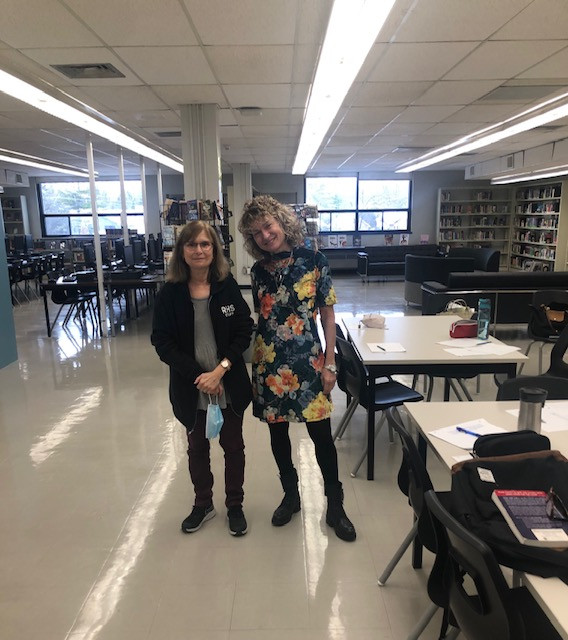 A funny thing happened during yesteerday's viist to Rosemere High School -- I was so excited to be working with Ms. Lawrence's enriched Sec. I students (and a few talented writers from other grades) that I FORGOT TO TAKE A PIC OF THE STUDENTS! (I have never forgotten to do that before.) Luckily, I did get a pic of me with RHS librarian Sylvie Plante, whom I had never met before. And it's a fitting pic (even if there are no students in it) because though I've visited RHS many times, this was my first time doing a writing workshop in the school's beautiful new library.
The best part of yesterday's workshop was that I had the students for THREE HOURS STRAIGHT (just one short recess break) -- which meant I had the time to do all the things I love: share writing tips, do writing exercises, and of course, TELL STORIES.
I often ask about students' names. Zed, whose birth name is Zoe, prefers to use the name Zed. But I had to laugh when I learned that Zed's parents sometimes call Zed "Lola" -- the name of the family dog. That prompted a student named Aaminah to tell us that her parents sometimes call her sister "Ivy," which is the name of their dog! I love how one story leads to more stories!! (Plus I'm always hunting for funny details to include in my books. That one HAS to go in!!)
When I told the students that I lost the original brass charm that inspired my book The Brass Charm, a student named Zayden said something so kind, "Maybe somebody gave him to another child!" I sure hope so, Zayden!
We played a writing game with the letter "R"; we talked about memories as a source of inspiration; and the students did an exercise based on an old memory. I was so busy reading the students' work that there wasn't even time to take notes about what they had written. I don't think that that has ever happened to me either during a writing workshop!
But I blame the students for being so talented -- and for transporting me to another world with your stories about your memories!
Thanks to Ms. Lawrence for the invite and for sharing your students; thanks to Ms. Plante for sharing your library; but most of all, thanks to the students for making me forget to take a pic with you, and to take more notes! Now get back to reading and writing!