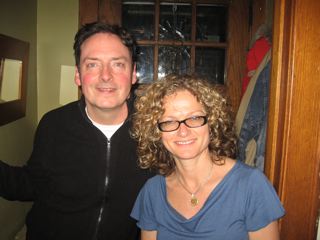 After 17 years together, my husband is used to coming home and finding out I've invited someone we never met before for dinner!
That's what happened earlier this week when Edward Kay came for lasagna. Edward is a children's author currently in town to work on a TV series called Finding Stuff Out (it debuts in November on TVO).
I "met" Edward via e-mail. (I do a column for CANSCAIP news about new members of the organization... when Edward explained that he's based in Toronto, but working in Montreal this fall, I figured he'd probably appreciate a homemade dinner -- and I had a feeling I'd enjoy meeting him and talking shop.)
Edward is the author of Star Academy (Doubleday, 2009). Its sequel Star Academy: Dark Secrets was just released a week-and-a-half ago. Edward says the books are "satirical sci-fi action adventure."
Edward is also working on a historical novel for Scholastic's I Am Canada series.
Because I'm always thinking of you, dear blog reader, I asked Edward for his number one writing trick. Are you ready? Because here it comes!
"At first everyone thinks I'm kidding when I tell them this trick," says Edward. "Set the oven timer for 20 minutes. Just write. Don't do anything else but write. Tell yourself that when the oven timer goes off, you won't be able to write anything else. Pretend this is the only twenty minutes you can write."
Edward started his career as a journalist and he thinks that that's where he may have learned to break down assignments into manageable chunks. He likes what he calls 20-minutes "compartments."
So check out Edward's books and his TV show -- and test out his trick. Thanks, Edward, for being a swell dinner guest and for sharing your number one trick!