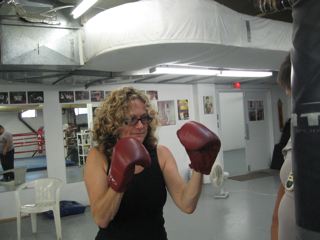 That woman boxer in today's pic is yours truly! So, no doubt, you are wondering what in the world boxing has to do with writing! Well, it turns out that the answer is QUITE A LOT.
I've been taking private boxing lessons once a week since July. My coach's name is Big Ron. The reason I decided to sign up for boxing has to do, believe it or not, with writing. All summer, I was working on a manuscript having to do with violence in a relationship. (Tentatively entitled So Much It Hurts, it's due out in spring 2013 with Orca Book Publishers.) Working on that project made me revisit some tough years in my life -- and it also made me think, hey, I need to learn how to protect myself... not because I'm planning to get into any boxing matches, but more in a psychological way.
And because I'm a writer, I have another plan. Did you already guess what it is? I want to do a book about a girl boxer. Not me, of course. What teenager would want to read about a 51 year old woman who takes up boxing? No, I want to write about a troubled teenage girl whose life begins to change when she learns to box. So, every week when I go to Big Ron's studio here in Montreal, I bring my notebook and a pen... and sometimes, in the middle of a lesson, I say, "Hey, I'd better write that down for my book!"
Which brings me to the real subject of today's blog entry. Yesterday, Big Ron told me something about boxing that also applies to writing. He was teaching me the left jab, and let's just say I'm a slow learner. Big Ron could see I was getting frustrated, so he said, "Frustration is okay as long as you keep working through it." Well, this morning, when I was settling down to work on my latest manuscript, I thought of Big Ron's words. I was feeling a little frustrated... not quite sure where my plot is going... but you know what? I took his advice and kept working through it. And now, it's nearly the end of my work day and I made some decent progress. As for my left jab, well... it still needs a little work!! So the moral of today's blog entry is: if you're feeling frustrated about something... try thinking to yourself how it's all part of the process and try to work through the frustration. Hey, thanks Big Ron!