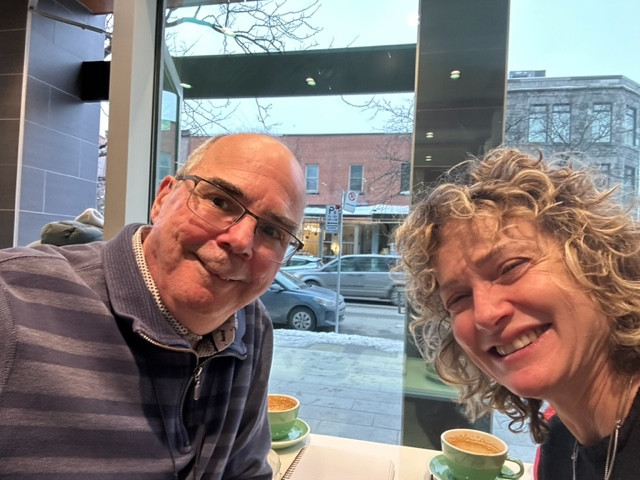 If you're a regular reader of this blog you'll know I mostly write about school visits. But I'm changing things up today – because I want to tell you what else I've been up to in my work life.
Last spring, I retired after 35 happy happy years of teaching English and Humanities at Marianopolis College. My plan was to focus on my writing and school visits (that's because I need to be around kids – they make me happy, and they also help inspire my stories!).
Somehow, without actually planning to, I seem to be becoming a Holocaust educator for young people. You may know that several of my books are set during the Holocaust, including What World Is Left (Orca), which was recently released in French as Vois tout ce qu'il te reste (Septentrion), translated by my friend Rachel Martinez. My new picture book, released in both English and French this fall by Scholastic is also a Holocaust story. It's called The Brass Charm; in French, Le trésor d'Oma.
Current events also seem to be leading me towards this kind of work. That's because of the recent rise in hatred of all kinds, including antisemitism – which means the hatred of Jews.
When last fall, I attended the Salon du Livre to promote Vois tout ce qu'il te reste and Le trésor d'Oma, I met journalist Yves Casgrain (that's him with me in today's pic). Casgrain, who specializes in stories connected to religion, has been writing for a website called Présence Information Réligieuse since 2015. He told me that he is fascinated by the story of the Shoah, the Hebrew term for the Holocaust. He also told me that he planned to read the two books I just mentioned and hoped to interview me afterwards for Présence Information Réligieuse.
So we finally met up last week – and the interview did me a lot of good because it made me feel like I'm on the right track in my work (like everyone, I sometimes have doubts!). And when I was finished answering Casgrain's questions, I asked whether I could interview him – and share what I learned with you, dear blog reader.
So I know why I'm interested in the Holocaust – and for me, the answer is deeply personal. It's because I'm Jewish, and because my mum spent over two years in a Nazi concentration camp called Theresienstadt. But when I meet someone who is not Jewish and does not have a personal connection to the Holocaust, but who is committed to learning and teaching about the Holocaust, well, I'm doubly impressed – and I always want to know WHY.
Casgrain told me that when he was in a Secondary V history class at Ecole Secondaire Calixa-Lavallée, he saw documentary film footage that he realized he would never forget. The footage came from the liberation of Auschwitz – the worst of the Nazi concentration camps – and included a horrific scene of corpses being scooped up by a bulldozer. When Casgrain shared that memory I got goosebumps – because I remember seeing the same footage, and later showing it to my students at Marianopolis.
That film footage made Casgrain decide to go on and study history at university. But, he says, he is mostly self-taught about the Holocaust. As a young man, he discovered Montreal's Jewish Public Library where he spent many hours doing research.
In particular, Casgrain, who is Catholic, wanted to know more about the Catholic church's role during the Holocaust. "It's a story that upsets me," Casgain said. "It's a question of humanity. Men, women and children who did nothing wrong were affected. That touched me. And also that the Shoah was organized. I sometimes wonder that, If Hitler had won and killed all the Jews, who would have been the next victims?"
My conversation with Casgrain gave me a lot to think about. I'm grateful for that. And even more grateful that people like him believe, like I do, in the value of Holocaust education. And grateful for the feeling of being on the right track. I hope that whatever you are doing, whatever you are up to, wherever life is taking you, you sometimes feel that way too!