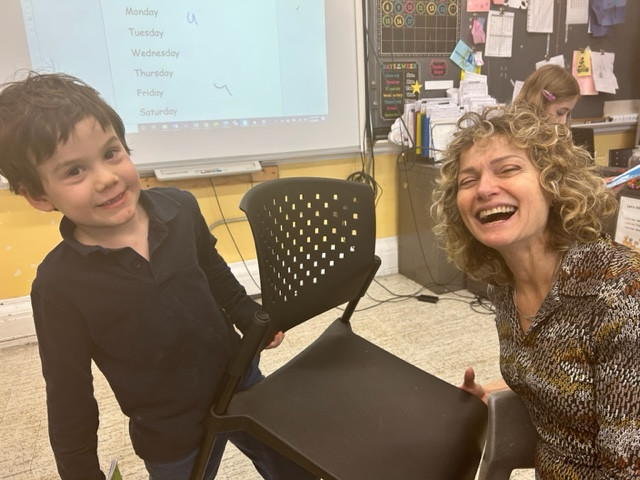 I'm back after a fun day at Roslyn Elementary School, where I worked with Miss Julie's Grades One and Two English classes. What made the day extra-special for me is that I met Miss Julie many years ago – when she was my student at Marianopolis College!
Let me start by explaining today's pic to you. That's a student named Theo making me laugh. The "back story" is I was sitting in a little kid's chair (I am not much bigger than a little kid myself!) and Theo came over, dragging a regular-sized chair. "Do you want this one?" he asked me. Well, let's just say Theo became my INSTANT FAVOURITE!!
I had already met these students in December, when I came to Roslyn to read from my new picture book, The Brass Charm. And quite a lot of the students remembered me. Some came in, pointed at me, and said, "I know you!"
Even though my students were quite young, I got them to do some useful writing exercises. I taught them about foils – how two opposite characters can help make a story interesting. Then I asked the kids to come up with two foils. A Grade Two student named Max wrote about "a giant and a tiny rat." Theo came up with "an anxious cat and a bored guy." I don't know about you, but I'd definitely like to read stories with those characters!
I asked my first Grade One group to come up with a word to describe how their day was going – and to explain their word choice. Myles came up with word "Great" and he explained that, "It's great because I got to show my Disney coin to the class." When I used a similar exercise with the Grade Two's (I asked them to find a word to describe their yesterday, rather than today), a student named Eliana wrote that her day was "Amazing." Here's why: "My parents let me see my friend, eat pizza and have a spa bath." I love Eliana's use of detail, an important element in storytelling. Also, you put me in the mood for a spa bath, Eliana!
I talked a lot about memory today – and how many writers find inspiration in their memories. I even read the kids from my book Princess Angelica: Camp Catastrophe which is based on an old childhood memory of mine. I was impressed when a Grade One student named Wesley made a connection between memory and dreams! Dreams are another important source of inspiration for artists. Wesley then proceeded to share a cool dream with us: "I had a dream about a chicken with a parachute who jumped off a building." That sounds like the start of a fascinating story, Wesley!
I'll end today's blog entry with one of my favourite questions ever. A student named Shusha raised her hand, wanting to know, "How do you spell 'question'?"
I'll be back at Roslyn next week. I'm hoping the students will think more about their "foil" characters, and perhaps find some inspiration in their memories – and dreams. That way, they'll be able to get deeper into their stories next week.
Thanks to Miss Julie for the invite. Oh, I sooo love how you and the kids sing Monday, Tuesday, happy days! together. I am going to start making that song part of my daily routine too!