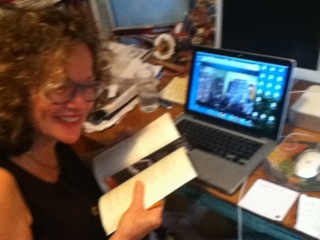 It does sound cool to say, "I spent the afternoon in Madison, Wisconsin!" And I did... kind of!
That's because I did a Skype visit to the Mystery to Me bookstore there. The visit was arranged by my friend and fellow author Elise Moser, who divides her time between Madison and Montreal. Elise was at the bookstore to read from her beautiful new YA novel Lily and Taylor. And I had a chance to read from my newest YA title, So Much It Hurts.
Both of our books deal with violence in a relationship. Elise's novel starts off with a haunting autopsy scene. The first line of the book is one that readers will not be able to forget: "They stuffed her brain into her chest."
In the question and answer period that followed our readings, Elise explained that her book started as a short story and that the trigger for it was a friend who did an internship at a morgue. I love hearing about how novels are inspired by real life moments.
It was also exciting that two young readers -- Izzie and Celia -- were at the reading. Both girls read our novels and had insightful comments about them.
So Much It Hurts is based on a dark chapter in my own life and I was glad that I was able to stay calm while I read. To be honest, the hardest part was seeing the audience's reaction. One woman covered her eyes while I was reading. Which makes me wonder about telling difficult stories. I think it's important to do, but there is a part of me that feels a little sorry about upsetting my readers.
Big thanks to Elise for bringing me to Madison (next time I'm coming in person! I hear it's an amazing city!) and to Joanne Berg, who owns Mystery to Me. Sharing stories -- even difficult ones -- is a bit like Skype itself, bringing us closer to others, even when they are far away.