I'm a lucky author because, as you may know if you've been keeping up with my blog, I'm writer-in-residence this year at Riverdale High School in Pierrefonds. I'm there as part of an exciting project called Libres comme l'art.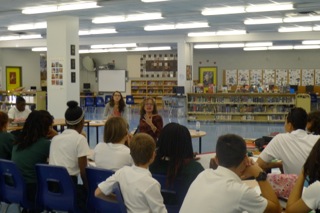 Let me get right to the lucky part: I get to work with one of Ms. Scott's Grade 9 classes. Together, we're brainstorming for a story I'm going to write. Today I was there for 80 minutes, and frankly, it felt like 10! That's because the students had so many interesting things to say. A special shout-out to Saba-lou and Fahad, who were both on the quiet side during my last visit, but were major contributors to this morning's discussion.
Last week, I gave the class homework: either to write about their experience with an autistic child (or adult), or else to tell me the story of an object that has significance to them. I just read their pieces and many were amazing. Shayne, who has taught swimming to autistic kids, shared his observation that one of the boys he worked with "doesn't ever keep eye contact" and prefers to "keep a routine." Awaiz wrote about a bracelet his mom received when she was growing up in Pakistan. My favourite part of Awaiz's piece was when he described how hard his mom had to work every day after school: "She had to sweep clean the house, milk the cows and study! She never really had time to play."
I'll see Ms. Scott's class again next Tuesday. I've promised them that by then, I'll have written a rough first draft of my Chapter One. (To be honest, I'm a little nervous since I want it to be really good!!)
The deal is: the students give me lots of great ideas and they'll respond to my story as I write it. In return, I'm going to teach them everything I know about writing a book.
So, can you see why I feel lucky?
PS: For Ms. Scott's students: the author who told me "All writing is problem solving" is Joel Yanofsky. His book about raising an autistic child is called Bad Animals.
PSS: Thanks to the wonderful Suzanne Nesbitt for being there today, for helping get Riverdale in on the project -- and for taking today's pic!