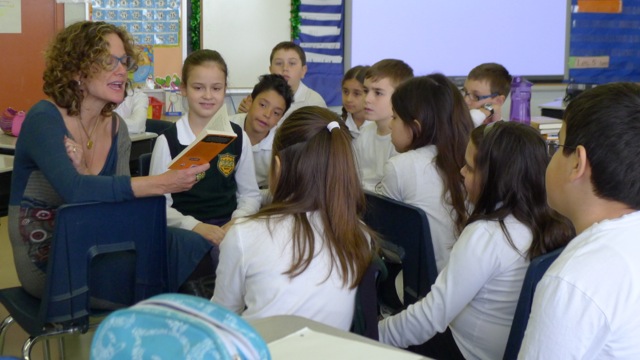 I started my day today at Honoré-Mercier School, where I did writing workshops with three groups of Grade Four students. Each class had its own "character." Mademoiselle Elisa's students were wide-awake and focused (even though it was 8:30 in the morning). Ms. Dina's students were quiet, but they produced some terrific writing. And Miss Angela and Madame Marnie's students had loads of excellent questions – and made me laugh.
Massimo F, one of Mademoiselle Elisa's students, agreed when I told the class that I often find writing difficult. As Massimo said, "Sometimes you make mistakes and then you need to think about it." Massimo, that is sophisticated thinking – especially for someone your age.
Dear blog reader, you must be curious to learn more about those good writers in Ms. Dina's class. I had asked the students to write about a memory. Fiona began her story with the line, "This girl was hitting my dad's car with a stick." Doesn't that make you want to keep reading and find out why the girl was doing that – and how Fiona's dad responded? Jessica remembered, "a girl that I thought was sweet, but she was not." That's another story I'd like to read! It has one of the most important ingredients in stories: conflict.
I'll finish today's blog entry by telling you what someone in Miss Angela and Madame Marnie's classes said that made me laugh. I had read a little to the group from my book Home Invasion and I explained that home invasions are robberies that happen when the people who live in the house are home. A student named Matteo raised his hand excitedly and asked, "What's that home invasion book called again?" Of course, I answered: "Home Invasion" – and we all had a good laugh, including Matteo.
You know, I spend most of my days working with 17 and 18 year olds, and when I do school visits, it's often to high schools… so it was a special treat for me today to work with Grade Fours – especially ones who are as smart, talented and funny as the ones I met today at Honoré-Mercier.