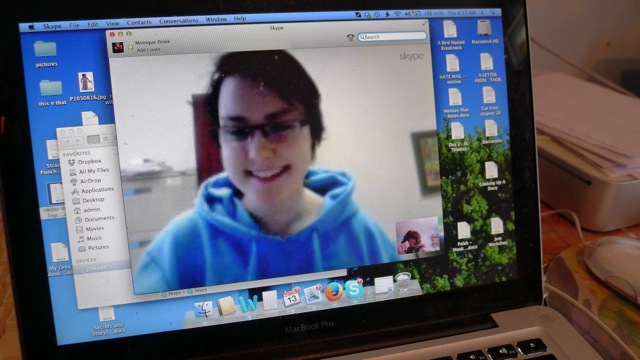 I started the day with a Skype conversation with a reader in Baie-Comeau. Vickie Bouchard (that's her in today's pic) is a Sec. IV student at Baie-Comeau High School and she and her classmates have been studying the Holocaust.
Her teacher, Mr. Kohner, who is also the school's principal, suggested Vickie read my historical novel What World Is Left. And because Mr. Kohner knows me, he got in touch and asked if I'd agree to let Vickie interview me about the book.
Vickie was super-prepared with many good questions. She wanted to know if it was hard for me to write the book (I told her the actual writing wasn't hard, but the research was challenging since the story is based on my mum's experience during the Holocaust). My favourite question was when Vickie asked, "What were the things that gave your mom hope?" I told her my mom has a great sense of humour, and that knowing her and her family, they were able to find humour even during the difficult times they lived through. And of course, they found hope in the love they had for each other.
I asked Vickie if she'd seen or heard about The Lady in Number Six, the short documentary that recently won an Academy Award. It turned out Mr. Kohner had mentioned the movie to Vickie too. Alice Herz-Sommer, the subject of the documentary, was imprisoned in the same concentration camp as my mum: Theresienstadt. In the movie, Alice reminds viewers that there is beauty even when awful things may be happening -- but we have to look for that beauty. To me, that is a great example of hope.
Because of my family history, I feel I have no choice but to be interested in the Holocaust and Holocaust stories. That's why I'm always impressed and deeply moved when someone who is not Jewish, and who does not have relatives who were affected by the Holocaust, is eager to learn about this heartbreaking chapter in human history.
So Vickie, if you're reading this blog entry, it was a pleasure to "meet" you. Keep reading and writing -- and I look forward to seeing the piece you are going to write about our conversation. I admire your courage!