It's a new week, and I've embarked on a new project. I'm just home from Ecole Père-Vimont in Laval, where I worked with wonderful comic book artist Laurence Dea Dionne and a super group of sixth graders taught by the also super Ms. Lizotte.
Laurence and I were at the school to introduce a new Blue Metropolis Literary Foundation project called The Mysterious Story of the Twins Next Door. What's especially exciting about this project is that it's happening in two languages. The Père-Vimont students for whom English is a second language, will be working with students at Courtland Park International School in Saint-Bruno, whose second language is French. The French students will be writing in English; the English students will be writing in French. And our project is bilingual in another way too since the kids will be expressing themselves in the language of words and also pictures!!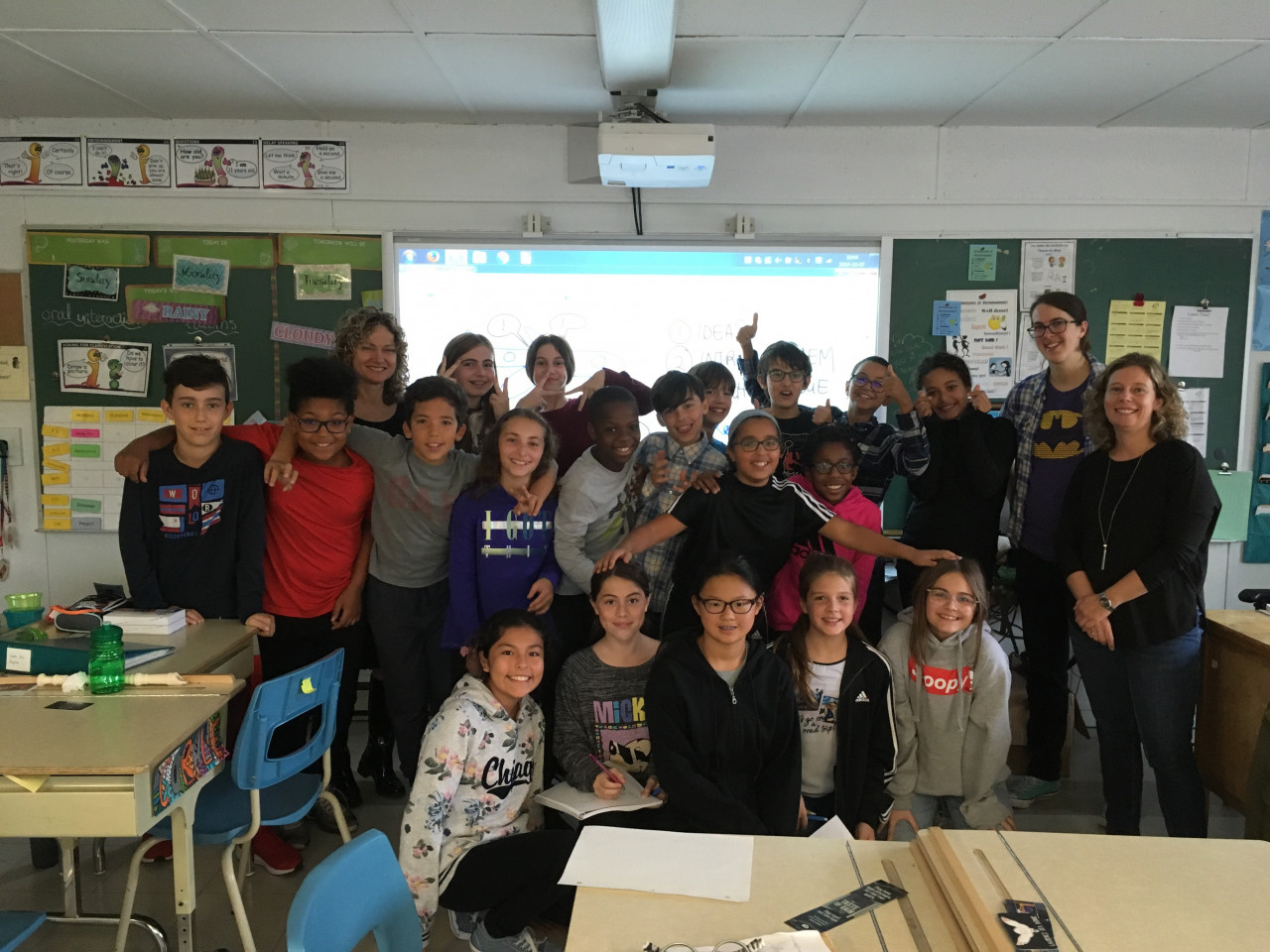 Speaking of pictures, that's a pic of us with the kids this morning!
We gave the kids a start to a story -- two twins are separated when they are babies. One, a girl, is brought up speaking English; her brother is raised speaking French. Now we're leaving it to our students to complete the story!
I did a mini-mini-writing workshop (but I don't have to tell you about that today)... that's because you really want to hear about what Laurence taught the kids! One of the first lessons she shared was, "In and out." She explained how, "You take in ideas and your create things to let them out." I LOVED THAT LESSON!
Like me, Laurence believes in doing research. She told us how, when she was first trying to draw a lion, she Googled lions to see images of them.
And there's another way of looking at things that Laurence and I have in common. I tell students that if they think their first draft is terrible, it's a sign they could become professional writers. Laurence told the students, "If you think you're bad at drawing it's because you have a different style!" I wish someone had told me that when I was a kid making drawings. So the solution for both drawing and writing is TO KEEP DOING IT!!
On Friday, Laurence and I go the Courtland Park, where the students will start their own stories about the twins. Then, in a couple fo weeks, the Père-Vimont students will finish the stories begun at Courtland Park (and vice versa). All this gets a bit mathematical for me to explain... but let's just say the stories -- told in two languages, and in both words and pictures -- are going to be great.
Here's a little sneak preview of some of the great ideas the students came up with today. One group decided the twins will end up being neighbours! Another group decided the twins will meet in New York City, on top of the Empire State Building. And another group will let the twins meet up at a reunion for the orphanage, where they spent the first months of their lives.
So I'd say we had an amazing start to this project. I'll keep you posted on our progress! In the mean time, here's to words and images -- and every kind of storytelling in every possible language!