One of the many fun things about being an author is that you get to meet other authors! Over the years, I've been lucky enough to have struck up friendships with several fellow authors including Rina Singh, Raquel Rivera, Karen Spafford-Fitz and now, Deborah Kalb.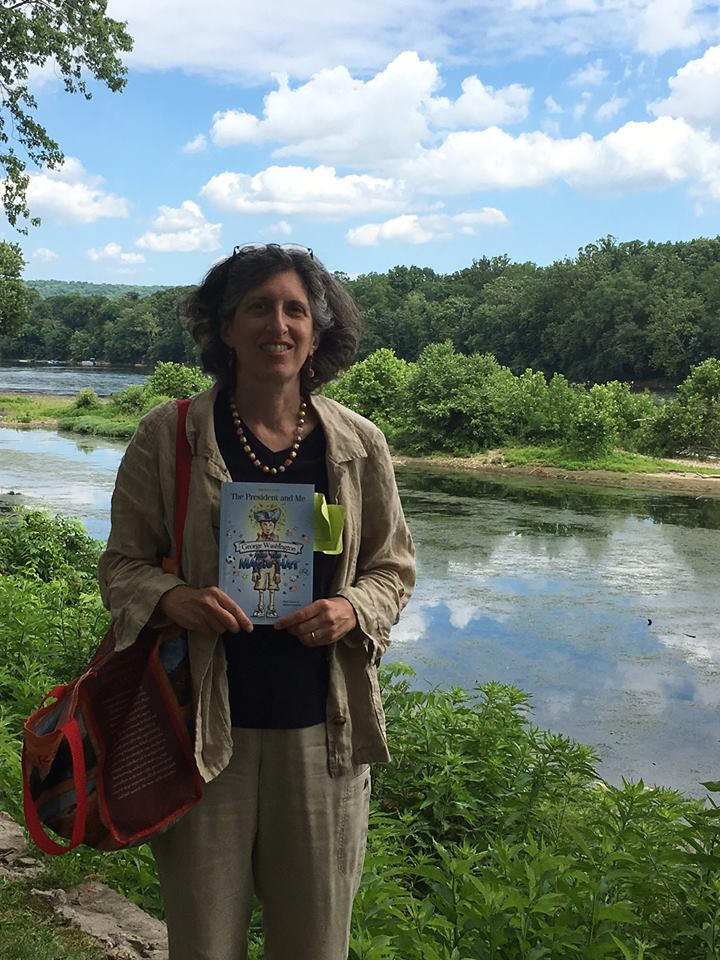 I get to hang out with Rina, Raquel and Karen in person, but so far, I've only met Deborah on-line. That's because she interviewed me for her blog about kids' books! Over the years, Deborah has done Q&A's with hundreds of kids' book authors... so I decided I should interview HER. And it turns out we have a lot in common. Like me, Deborah has a background in journalism and now writes for kids. I was especially interested to learn that she has co-authored a book with her dad. If you want to find out how that went, you'll need to read my Q&A with Deborah. Also, I left out the part where I invited her for dinner next time she's in Montreal -- but if she does turn up, you can be sure I will blog about it!
Here's the Q&A. I think you'll enjoy meeting Deborah too!
Q: You spent 20 years as a journalist with, for example Gannett and US News and World Report. What made you decide to move into the world of children's literature?
A: It was kind of a gradual transition. My first book once I left daily journalism was for adults, and involved history and presidents. I had always wanted to write fiction, and had various mystery novel manuscripts stashed away in boxes and closets. I've always been a voracious reader, and I remember how much I loved to read as a kid, and I decided to combine all my interests into one!
My first book for kids was George Washington and the Magic Hat. It's a middle-grade novel about Sam, a modern-day boy in Bethesda, Maryland, who finds an antique tricornered hat in the gift shop at Mount Vernon, GW's home. The hat ends up taking him on various adventures back to the 18th century. GW and the Magic Hat is the start of a series featuring a classroom of fifth graders who have magical time travel adventures while also dealing with current-day issues. Each book is from the perspective of a different kid, and features a different president from the past.
Q: Your latest kids' book is The President and Me: John Adams and the Magic Bobblehead (Schiffer 2018). Why did you want to write about John Adams?
A: The short answer is that I'd written the first book about George Washington, and John Adams is the second president so he was a natural for book two!
The longer answer is that writing about John Adams—and his wife, early feminist Abigail Adams--was a fascinating experience. He was a far quirkier personality than George Washington—he was quite irascible and short-tempered and didn't suffer fools gladly. The time travel device in this book is a bobblehead of John Adams that my characters Ava and J.P. buy at the John Adams visitor center in Quincy, Massachusetts, and it ends up talking and taking them back to meet the entire Adams family, including John Quincy Adams, John and Abigail's son who ended up becoming the sixth president. Yes, there are presidential bobbleheads! My family got one at the John Adams visitor center.
Q: Who's the next president you plan to write about?
A: Book three, Thomas Jefferson and the Return of the Magic Hat, is set for publication next year. Thomas Jefferson was the third president, so you can see that I'm going in order here! I'm now writing book four, about James and Dolley Madison. I try to include as many women as possible, and Dolley Madison, like Abigail Adams, is definitely worth writing about.
Another featured character in the Jefferson book, book three, is Madison Hemings, the enslaved son of Thomas Jefferson and Sally Hemings.
Q: You co-authored the book Haunting Legacy: Vietnam and the American Presidency from Ford to Obama (Brookings 2011) with your dad Marvin Kalb. Your dad was a long-time journalist too. What lessons did you learn from him about writing?
A: Throughout my life, I have always learned so much from my father, and I'm still learning from him today. He's been a role model when it comes to clarity in writing, ethical journalism, and strength of character. Writing the book with him was a special experience for me, and our road trips for book events were wonderful. I'm so glad we could work on a book that combined our interests and allowed me to hear more of his ever-fascinating stories about his lengthy career as a reporter and writer!
Q: How did you and your dad divide the work? Did you argue during the process?
A: He focused on the part involving foreign policy, while I focused on the political and biographical sections. We sent the chapters back and forth and edited voraciously! Yes, there were some arguments, but it all worked out in the end!
Q: Is there a connection for you between journalism and writing for kids? Can you explain it?
A: Yes. I think especially in today's world, where facts and history are often twisted to score political points, that learning about history is more important than ever. The role of journalists, now under attack, is also more important at a time when the U.S. president considers reporters enemies of the people. My hope is that kids can learn to appreciate history and that in turn will help them become informed consumers of news in these troubled times.
Q: Why do you blog about kids' books?
A: I started my blog, Book Q&As with Deborah Kalb, back in 2012. It reflects my own interests, which are quite eclectic. I interview authors of books for kids and adults—fiction, history, mysteries, memoirs, cultural issues, sports, science: you name it! I always enjoy interacting with authors—like you! --and I learn so much from the whole experience.