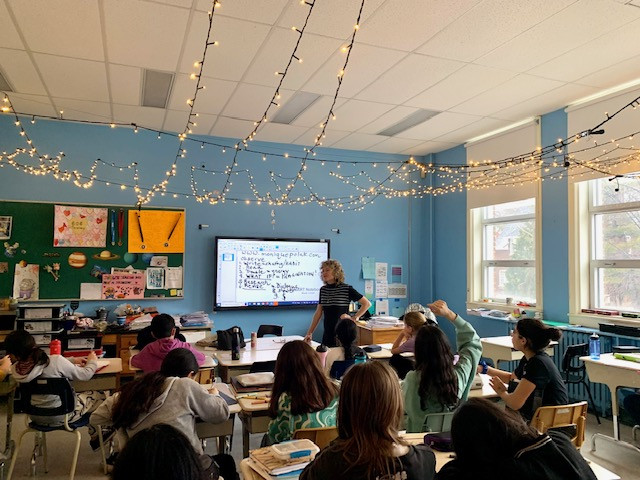 I was back at Académie Saint-Clément this afternoon to do my last writing workshop with the school's Grade Six students -- and they were wonderful. Maybe it's because their English teacher, Ms. Cristina, seemed to be having what we call "a word" with them before I came into the classroom. I think this is a lively group and she wanted to make sure they were on best behavior -- and they were. They were also lively, smart and fun.
Though being observant isn't technically one of my writing tips -- I often end up talking about the powers of observation and how they can improve our writing (and our lives). When I came into the classroom, Ms. Cristina was at the new smart board. I noticed that a student named Ahoura seemed to be trying to signal Ms. Cristina. What I didn't realize at the time was that Ms. Cristina was having trouble getting the smart board going. I did figure it out however when another student, Mariame, called out to Ms. Cristina, "You have to push on the pencil." I thought it was wonderful (and also funny) that now and then we adults need kids to help us with the latest technology!
In addition to covering my usual writing tips, and telling some stories, I also demonstrated my boxing stance, and there was even time to read the class my new picture book, The Brass Charm -- and to show them the monkey man charm that inspired the book. And I'm proud to tell you I invented a new exercise about SECRETS! The exercise went better than I expected (you never know with a new exercise!) -- the students came up with some great secrets, some real and some imagined.
I was telling the class a story about a chihuahua I met last week and later, Pablo told me he's from Mexico. When I asked him what city, he told me Chihuahua! Then he added, "It's not full of chihuahuas." That could be my favourite line of the week. I even asked him to try to introduce me to a family he knows from Chihuahua that has two chihuahuas!
Malek was a great participator from the start. It turns out he writes songs, though there was some discussion about the kind of lyrics he favours. I suggested maybe he should be writing songs that could inspire listeners to make ours a better world!
When we were talking about the importance of having trouble in stories, Ahoura (another super participant, plus the first to spot the smart board problem!) thought of adding an ice cream falling on the floor to a story of a birthday party. Excellent example of trouble, Ahoura!
Ulysse told us about his grandfather who only learned to write when he was in his 50s. As I told Ulysse, ask your grandfather to tell you more about his childhood and the struggles he faced. And also ask about the pride he must have felt when he learned to write! All that would make an AMAZING story!
Oh, I was also impressed that a student named Vincent knew the word "tabou" (in French) -- taboo in English -- this word came up when we were talking about secrets and how they often are at the center of a story.
So if I sound happy and energized, it's because I am! Thanks to Ms. Cristina Musila for the invitation to work with your Grade Six students this week. Loved the kids; loved the atmosphere at Académie Saint-Clément!