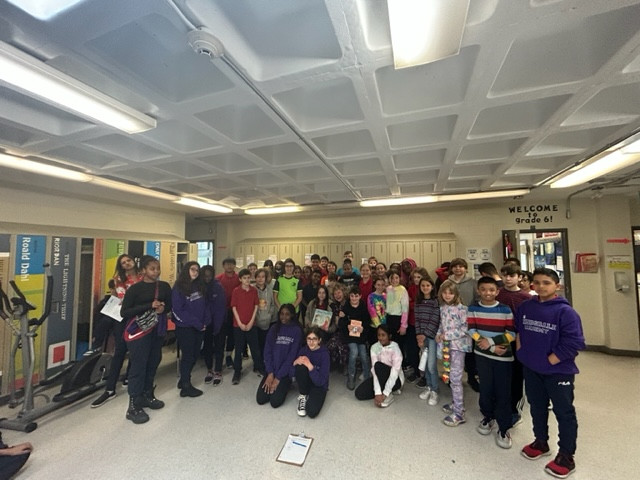 Many people dislike Monday mornings. But my own own morning -- and week -- got off to splendid start. (I have always loved the word splendid, but I seldom get to use it!) Mrs. Byrne, principal of Kingsdale Academy in Pierrefonds, had invited me to speak to the school's students in honour of I Love to Read Week. It turns out the students I met really do love to read -- and also ask loads of great questions (which is a big part of learning, and also comes in handy if you are doing book research).
I started the day in the gym with kids in Grades One to Four. There were a lot of them, but I must say I never had to shush a single one! I have a whole page of notes I took with comments from this group, but because I don't want this blog entry to go on forever, I'll just share a few. When I told the kids that I am curious, a student named Austin commented, "So you're Curious George." I liked this comment because it is LITERARY and shows me that Austin has good taste in books. A student named Hannah said, "I'm like you because I take notes and I'm almost finished making my first book." I told Hannah that her name is a palindrome -- meaning if you spell it backwards it's still the same word. Hannah knew that about spelling her name backwards, but she didn't know the word palindrome. So I'm super proud that I was the one who taught it to her. This discussion prompted a student named Lana to tell us, "Tacocat is a palindrome too." I immediately tested Tacocat by writing it out on my sheet -- and yup, Lana's right. FUN! And when I read the students my new picture book, The Brass Charm, a student named Layla commented that the character in Marie Lafrance's illustrations looks like me! (No one had ever told me that before, but I think it's true!)
Next I worked with the kindergarten classes -- they were fun and unusually attentive for such young kids. Oh, I forgot to tell you that it was Rainbow dressup day at Kingsdale, so I loved all the colours and also that Madame Yara (whom I had already met when I was parking my car) was wearing two different coloured sandals!! Special call out to teacher Ms. Talia who enjoyed that the narrator of The Brass Charm is named Tali. "I spent my life when I was growing up," Ms. Talia told me, "looking for another Talia."
After recess, it was on to the Grades Five and Six classes. These kids were wonderful! Again, I never really had to shush a single one of them. Whatever you teachers are doing at Kingsdale, it seems to be working! A student named Giordano had brought a copy of my book Princess Angelica, Camp Catastrophe with him -- so I ended up telling the students a little about how that story came about. And a student named Zeiler demonstrated his good sense of humour. When I mentioned that life gets easier as you grow up (you get to be more in charge of your own destiny), but in some ways it's also challenging, Zeiler commented, "Like you have to pay taxes." Not only did this comment make me laugh, but it reminded me I have to call the accountant and see if my tax papers are ready to submit! Later, when Ms. Irene brought over an extra chair for me to put my books on, Zeiler said, "The chair is for Non-Existy." I found that funny too, and I like how Zeiler used his imagination to invent the name Non-Existy. By the way, Zeiler, an invented word is called a neologism.
I read these kids The Brass Charm too (okay I did give them a minute to stretch and talk before) and they were my ideal audience -- focused and attentive and well... INTO IT! I know you guys clapped for me, but I feel like you deserved the applause for being so terrific.
I had several notetakers to assist me today. Thanks to Aleeza and Eliana in the first group, and Jackson and Ben in the last. The kindergarteners are a little young for taking notes! Thanks to the teachers for sharing your lovely students with me; a special thank you to Ms. Byrne, who is on my list of favourite principals ever. She stayed for all my talks, and she even led the Grades Five and Sixes in a proper stretch. I seldom get to meet the principal when I do a school visit, and Mrs. Byrne is smart and FUN. (My favourite combination in a person.) Thanks especially to the students. You were just what this writer needed on a Monday morning!