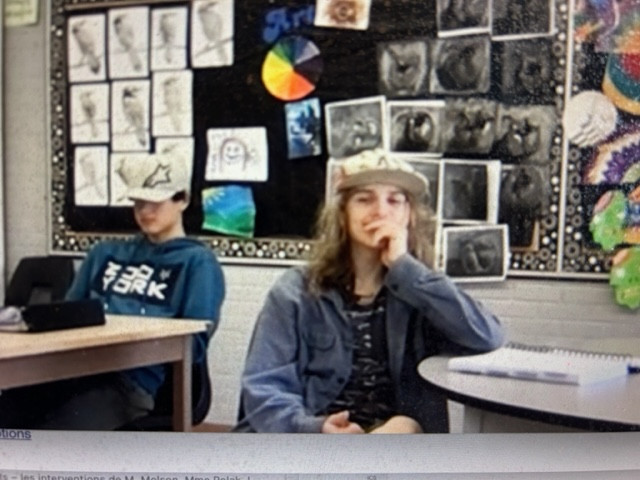 You may be wondering why John, the student you can see smiling under his hand in today's pic, is smiling. Well I caught that smile after I told the students that I find a person who knows his or her way around a semi-colon SEXY!
This was my last virtual workshop with Ms. Webb's student at G. Theberge School. This morning before the workshop, I told my running buddy that I didn't expect the kids would have any writing to show me -- because when you give workshops you can't really assign homework. So, as I told my buddy, I had a Plan B in mind. But guess what? There was plenty of writing for me to listen and respond to! Yay for Ms. Webb's students!!
John started us off with a memory of a daring adventure. I was impressed by his use of strong verbs -- he included "launching," "blasting," and "sliced" in his piece. He also used a beautiful simile "like a shark through water." And I only caught one adverb ("instantly") which I suggested he nix. Thanks for being my first "victim" today, John!
Next up was Carter, who read us a short, but powerful piece about a man who wakes up in "dark, cold elevator." Cool start, Carter! Carter admitted he hasn't figured out what happened to the guy -- but as I said, some writers (I'm one of them) only figure out their plots as they write!
Corbin read the start of his piece which takes place in his grandparents' basement. He describes his popa's workshop, "it smelled like oil." I like that! I told Corbin I have a hunch he should write more about his family, and that he should try to find out his nana and popa's stories! The older I get, Corbin, the more I trust my hunches.
Hunter was my last "victim." He had said he had only written forty words, but this turned out to be a joke. So instead I asked Hunter a question I love asking, "What matters to you?" He answered straightaway: "My dogs." Well then, Hunter, I think you have the topic for a story!
I'll actually be in the Temiscaming region at the end of May for the Salon du Livre Abitibi-Témiscamingue (the city's name is spelled differently in French). And it turns out I'll have some free time on May 25th. I'm hoping to find a way to make the trip from Val d'Or to Temiscaming and meet Ms. Webb and her wonderful students in person.
Thanks to Mrs. Webb and the students for making my visits interesting and fun. Thanks to ELAN's ArtistsInspire program for making these workshops possible.