As you will probably have noticed, I like to include pics in my posts. Usually, they're pics of the kids I meet when I do school visits. Today's a first -- because it's a pic of me meeting a rabbit. Actually two rabbits. The one in my arms is Stella; the one in teacher Miss Nathalie's arms is Stark. Stella and Stark are a couple and they're expecting a litter of baby rabbits next week.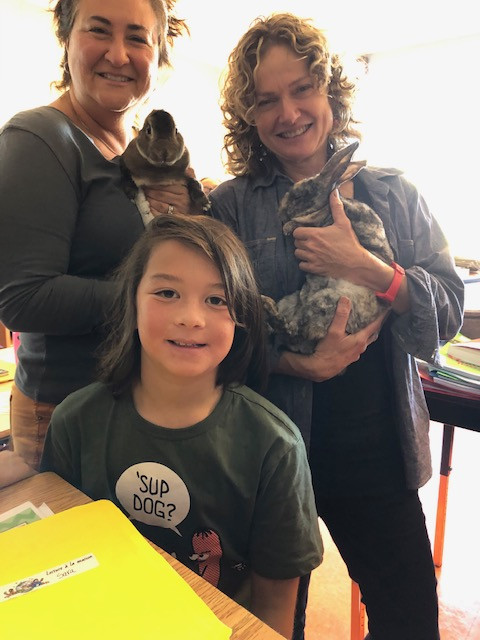 The student in the foreground is Joel. (There are two dots over the e in his name, but I don't know where to find them on my keyboard!) (Also, more about Joel later.)
I was at Birchwood to work with three groups. The first were Madame Manon and Miss Nathalie's Grade Fives; then I had more of Miss Nathalie's Grade Fives with Mrs. Roberts's Grade Fives, and I finished with Miss Sellitto's Grade Sixes (they had met me last year, so we did LOTS of writing exercises).
You know how I like OBSERVING and how I tell kids that writers need to be OBSERVANT? Well I observed how one student had a very cool birthmark, not quite on the center of his forehead. Then I showed the students how writers like to play a game I call WHAT IF? What if, I asked them, that birthmark had super powers? And I showed them the birthmark near the side of my mouth, and told them that the doctor once offered to remove it, but I said ABSOLUTELY NOT. (Maybe it gives me super powers!!)
When we talked about how older people have the best stories, a student named Léanne said that when she sees old people, she wonders, "who, what, where and how long they've been together." Great work, Léanne. That's thinking like a writer!
In the first group, I heard a lot of grandparent stories. That happens to me sometimes -- that I meet a group and many of them have an important thing in common. Several of these students were mourning their grandparents' deaths. That's a hard thing to have to go through, but it makes for great stories. Also, by remembering the people we have loved who have died, and by finding out their STORIES, then sharing those stories.. well, I see it as a way of bringing them back to life.
For second period, I went to Miss Nathalie's classroom where I met Stella and Stark. I played the WHAT IF? game with these students too. What if, I asked the kids, a sinister visitor came to their classroom and she was a chef who wanted to try out her recipe for rabbit stew? What if she tried to steal Stella? Then what?!! (I personally think it would make an interesting book.)
When I talked about the importance of rewriting, I explained that my first drafts are ALWAYS JUNK. Why, I asked the students, is that GOOD? Joel (featured in today's pic) had the perfect answer: "It's good because you can see what you did wrong and switch it up." Gorgeous words, Joel! Perfect description of the revision process!
I ended my morning with Miss Sellitto's Grade Sixes, whom, as I explained before, had met me last year. So I zipped through my writing tips and gave them several (I think four) writing exercises. A student named Leonardo gave me permission to share what he came up with when I asked the students to imagine the story they most need to read. Leonardo wrote: "People are scary when they are mad. People are scary when they are big. But people aren't scary when they are kind."
I find Leonardo's writing powerful, intriguing and poetic. When I told him so, he said something that made me just as happy as his beautiful writing. He said. "I guess it's from reading a lot."
So here's to rabbits and rabbit babies, and wonderful students, and writing exercises and reading a lot and telling stories! Special thanks to all my friends (human and non-human) at Birchwood, to the teachers for being wonderful, to the students for wow-ing me, and to librarian Miss Hausen for the invite!