If you're wondering why the title of today's blog entry is en français, it's because this morning cartoon artist Laurence Dea Dionne and I worked in French at Courtland Park International School in St-Bruno. We were there to introduce Monsieur Geoffrey's Grade Six class to a wonderful Blue Metropolis Literary Foundation project called The Mysterious Story of the Twins Next Door.
Here's a pic of Laurence, Monsieur Geoffrey and me with some of the kids in the class.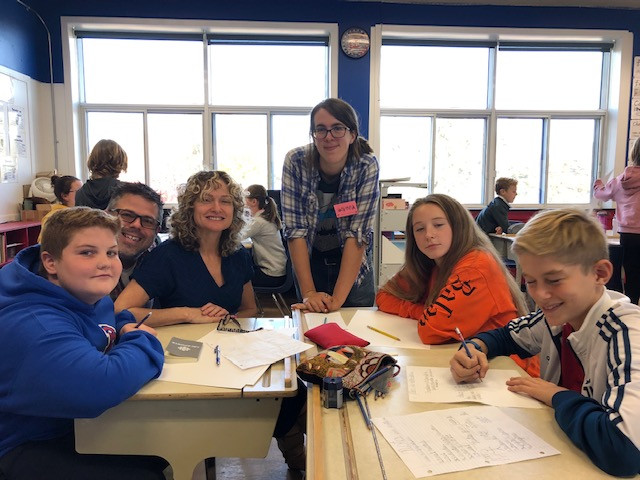 These students are partnered up with an English class at Ecole Père-Vimont in Laval. Both groups will be using words and images to finish a story (that I started) about two red-headed twins who are adopted -- one by an English-speaking family, and one by a French family.
If you read Monday's blog entry, you'll know that Miss Annie's class at Père-Vimont came up with super ideas for how the twins could meet up and get into some trouble that would make for an interesting comic! Today, the students had great ideas too. One group is planning for the girl twin to grow up and become a cop -- who arrests the boy twin for speeding! Another group plans to pit the two twins against each other in an art contest. Cool, n'est-ce-pas?
I took some notes about the wonderful lessons Laurence shared with the class today. She told them to think about EMOTION, ACTION and PLACE in their drawings. You know what, Laurence? I am going to think about that stuff too when I get back to my book-writing (hopefully on Monday!!). She also suggested the students play with perspective in their drawings, telling them, "You're a cameraman. Zoom in. Zoom out." I think writers can use that advice too. Sometimes we want to zoom in on a moment in a character's life, or a tiny detail in the scenery... other times, we need to zoom out and look at the bigger picture.
Special thanks to Monsieur Geoffrey for sharing your class with us, and to school principal Monsieur Couture for coming to sit in on our workshop. And thanks to the kids for working hard and having great ideas. A bientot, les amis!!