I had a big day here in the Yukon. I did four school visits in the Whitehorse area, but instead of feeling tired, I am flying high!
My day started at Selkirk Elementary. There, I met a group of grade seven and eight students. One of my favourite moments was when I told a guy named Jeremiah, who is six foot one, that he seems to be a gentle giant. Jeremiah said, "That's what the little kids call me!" I also had a good laugh when a student named Rizwan asked, "Why do you always write about real life instead of doing something creative?" (I explained that writing about real life also takes a little creativity!)
Next stop was Christ the King School. I felt right at home because they have a NO OUTDOOR SHOES INDOORS RULE. My friends in Montreal will understand because a lot of them think I am weird for having that same rule in my house. Here's a photo of what I saw when I walked into Christ the King School: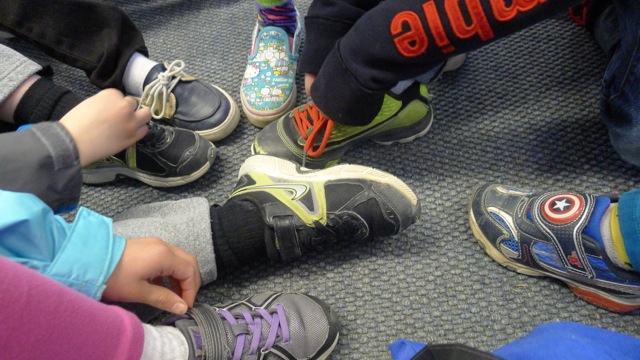 At Christ the King, I worked with Tannis Giczi's grade sevens. I told them how I love to ask the question, "What if?" and how asking that question helps me advance my stories. So I was pleased when a student named Josh wrote about playing with a friend -- and then Josh started using the what-if method. He wrote: "What if the table broke and shattered my leg? What if my friend did it? What if my friend did it on purpose? What if there was no one to help?" Like I told Josh, I think he's got the first chapter of a book there!
At. F.H. Collins High School, Mr. Brown shared his Grade 12 writing students with me. I felt at home here, too, because Mr. Brown's students are the same age as the students I teach at Marianopolis College in Montreal. A student named Christina (look for her in the next pic -- she has pink and yellow hair) seemed to be really interested when I talked about using trouble to fuel a story. I felt honoured when Mr. Brown explained that Christina had had root canal surgery an hour earlier. Hey, if I can get a student with a toothache to learn, well, I must be doing something right, no?!!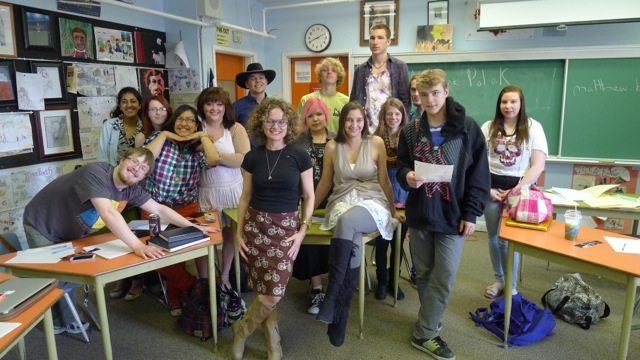 My last stop was at Vanier High School. Here, I worked with Miss Schaefer's grade eight group. These students were unusually kind. I know because when I told them a couple of sad stories which have inspired some of my work, I could feel them sharing the pain of the stories. A student named Myles asked my favorite question of the day: "Do you think in words or do you visualize?" Usually I answer questions quickly, but I had to think about this one. I told Myles I do both -- and that I think his question shows intelligence and sensitivity. That's Myles working on a writing exercise in the next pic.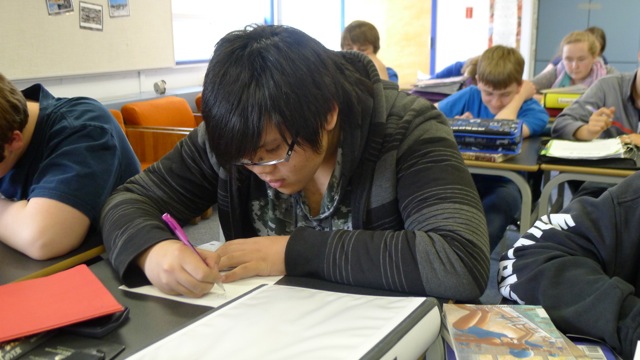 This blog entry isn't quite done. That's because I have a personal story to tell you next. When I was 17, I had a close friend named Barbara Reid. I met her when we were students at Marianopolis (the college where I now teach). By university, we lost touch, but I've often wondered what happened to her. I've even googled her name, but never found my old friend. Well after today's last school visit, Michel Emery, the learning resource consultant for Yukon Education, who is driving me around this week, stopped the car to say hi to a friend of his, a school librarian named Barbara. Barbara walked over to the car, and Michel explained that she is also from Montreal. CAN YOU BELIEVE SHE IS MY BARBARA REID? How's that for a great story?
You'll want to see this pic of our reunion!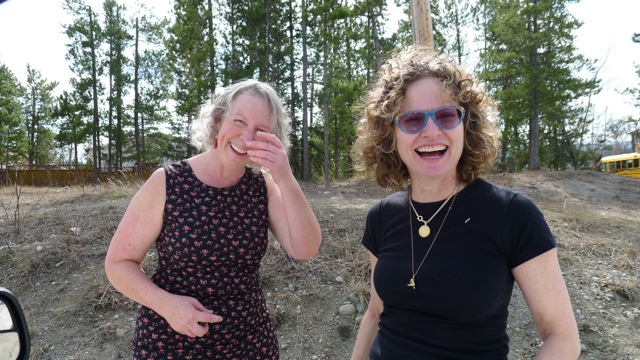 Just one question: how am I ever going to be able to top this day?