It's not every day a Montreal children's writer gets to do a writing workshop at the Whitehorse Public Library – but thanks to TD Canadian Children's Book Week, that's exactly what I did today.
I am one of 29 lucky Canadian children's writers and illustrators touring Canada this week. It's still a little hard to believe I am here in the Yukon!
There were about ten people at my afternoon workshop. (One was wearing a cool T-shirt that I photographed for today's first pic.) What made the workshop especially interesting and fun is that there were participants of all ages.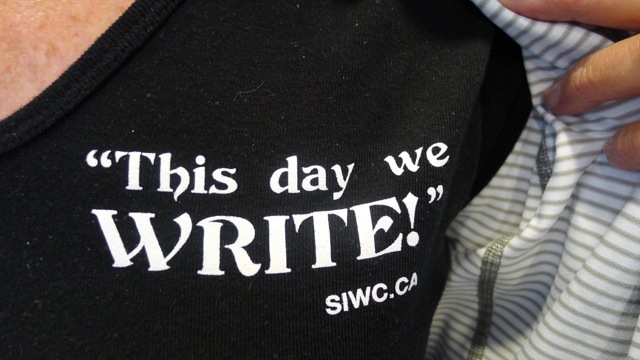 Most were grown-ups, but we had two wonderful young people in the group – twins Heather and Andrew, who are in Grade Five, and whose school is one of the 13 schools I'll be visiting this week.
Because we had two hours together, I had plenty of time to explain how I got into writing for kids, to share my tips for getting ideas for books, and also to do a couple of writing exercises. I'd have read to them, too, but guess what? I'm safely arrived in the Yukon – but my suitcase (which is where I put my books) hasn't made it here yet.
One workshop participants was Elaine Hurlburt, who came all the way from Haines Junction and is the author of several non-fiction books. When the writing exercises were done, Elaine gave some super advice to Heather and Andrew. She told them, "Keep everything you write. I didn't keep anything except an essay and a piece I wrote when I was a girl for the Winnipeg Free Press -- and I regret it." I really like Elaine's advice -- and I plan to pass it along to the other kids I'm going to meet this week.
My exciting day didn't end after the workshop. Instead, I went over to Lian Goodall's house to have dinner with her, her husband Derek Cooke, their son and their friend John. Lian (that's her with me in today's second pic) is also a children's book author and fellow member of CANSCAIP; she got in touch with me when she heard I'd be visiting the Yukon.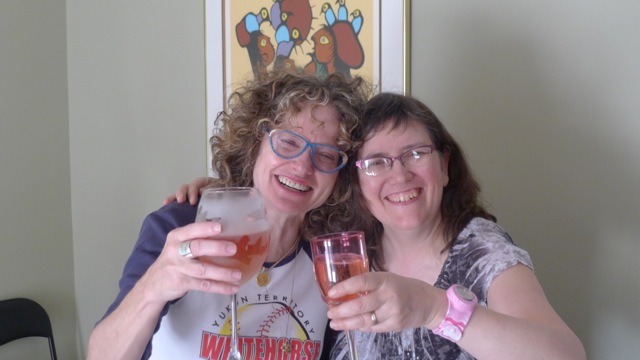 Not only did I have a yummy meal (artichokes, smoked keta salmon, bison pepperoni, Coho salmon, scalloped potatoes, spinach salad, and fruit crumble for dessert), but we had a great time comparing notes about our work. Lian and I were talking about our upcoming projects -- Lian is an expert in writing biographies (her titles include Portia White: Singing Towards the Future and Photographing Greatness: The Story of Karsh) and is currently researching the lives of eight girls who were born between Alaska and Greenland before 1900. I told Lian I'm gearing up to start something new myself. Here's what Lian had to say about choosing your next project: "It has to bite you in the bum and not let go!" Now can you see why I had such a good time with her tonight.