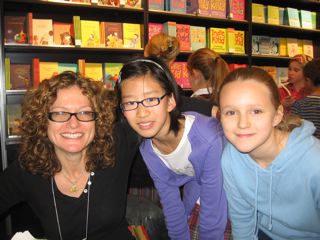 I spent a happy afternoon yesterday at the Salon du Livre de Montréal. I was there to sign copies of Poupée and Pris au Jeu, both published by Courte Echelle. These books are French translations of two of my earlier titles, On the Game and All In.
Though I'm bilingual, I learned a new word: "signet." That means bookmark, and the younger kids who came by my signing booth were especially interested in picking up bookmarks I signed for them.
How 'bout I tell you a little about the pics in today's blog post?
The pic at the top of the page makes me very happy! That's because it's of two students at Ecole Paul-Bruchési -- Carol and Mégane. They were in the group I worked with yesterday morning (Read the previous blog entry to learn more about the new Blue Metropolis Literary Foundation Project, En Mots et en Images, which brought me to their school). The students told me they'd be at Salon du Livre at the same time as me -- and these two promised to come by and visit! Merci, les filles!!
In the next pic, I'm with Claudia, Kimberley and Amélie, students at Cité des Jeunes in Vaudreuil-Dorion. When I wrote down the girls' names, their friend who took the pic, said, "What about the photographer?" So, yes, special thanks to Caroline for taking the pic -- and for making me laugh!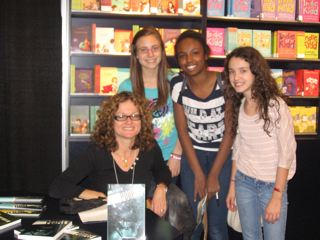 Scroll down a little further to meet Camille, who goes to Ecole St-Hilaire. Though I know that both of the French translations of my books have been selling briskly, Camille is the first teenager I met who bought one of my books. So that was an exciting moment!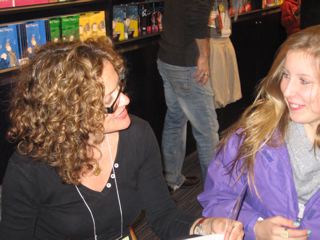 Here's Nelson. What I liked about him was that he was doing an assignment! Three cheers for Nelson's teacher at Ecole Lucien Pagée on Jarry Street here in Montreal. I have to admit that I helped him with a few answers about my book Pris Au Jeu! Hope you get a good mark, Nelson!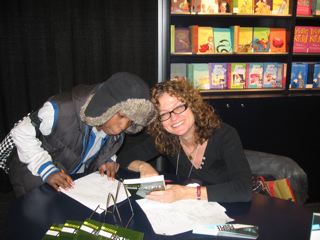 My favourite part of Salon du Livre was getting to spend time with young people. Here's a question for you: do you think I was observing them, taking notes for my next book? Scroll down to find out the answer!!
MAIS OUI. (Which means, but of course, YES!)
Thanks to my friends at Courte Echelle for translating my books, and for inviting me to this year's Salon du Livre!