I had a super vendredi -- oops! I am not supposed to be speaking French -- at Ecole Secondaire de la Seigneurie in Beauport, just outside Quebec City.
In today's pic, I'm looking at a student named Hélèna's journal. She is one of Mr. Lord's students -- and when I asked the class if any of them make a HABIT out of writing (I was discussing the value of writing regularly so that we can keep our writing muscles limber), Hélèna lifted up her journal as proof that she loves to write. After my workshop (when this photo was taken), Hélèna told me: "I love being able to take the ideas in my head and put them onto paper." It sounds to me, Hélèna, like you have caught the writing bug. Félicitations... I should say CONGRATULATIONS!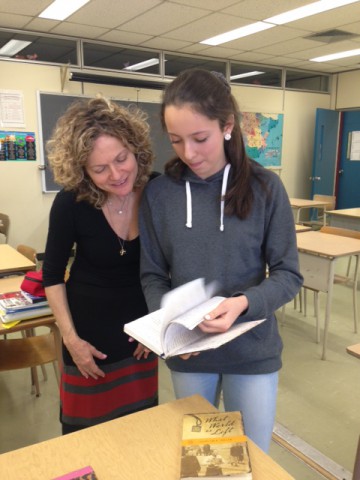 In all, I worked with four Secondary III classes. I spent the morning with Mr. Lord's students, and the afternoon with Mr. Michaud's. The students at Ecole Secondaire de la Seigneurie are French-speaking, but because I have visited the school before, I know that their English is very strong. I also know because they followed me (if you know me, you know that I get quite excited when I talk about writing and that I move quickly from one idea to another) without difficulty.
When I told the students that I never read without a pen (because I am always taking notes), a student named Maxim nodded and said, "I do that all the time!" Like Hélèna, Maxim seems to have the writing bug. When we had a few minutes to chat, Maxim asked me how I get ideas. I told her, "Ideas come to me." I explained that if she decides to become a writer, really commits to the idea of developing her talent, ideas will come to her too!
One of Mr. MIchaud's students, Ilyas, had two copies of my book What World Is Left. I learned that one copy belonged to his friend Thomas (Ilyas wanted me to autograph both books -- that's why he had Thomas's copy with him.) I was telling the class about my mum, who died last week, and whose experience in a Nazi concentration camp inspired What World Is Left. I told Ilyas how my mum loved to flirt with men of all ages -- and that, if she'd met him, she'd definitely have commented about his excellent hair!
A student named Rosalie nodded like crazy when I told her class that reading is my safe place. Rosalie told me that her preferred place to read is her bedroom. And when I told the class that when I hear a good story, I get goosebumps -- Rosalie kindly provided the French translation: "frissons." Don't you think the word "frissons" is much nicer than "goosebumps"?
Like me, a student named Frédérique confessed that she enjoys listening in on other people's conversations. (It's another common trait in writers.) I also learned that Frédérique's parents are both chefs. Now, that would make an interesting family for a book -- two chefs and their only daugher. Maybe because I love food, I often compare writing to cooking -- like chefs, we writers need good ingredients or material to get us started; we need to do research (for chefs that could mean studying recipes); and we need to adjust our creations in order to improve them (for chefs, that could mean adding spices; for writers, it means editing.)
I was a little sorry when 4:15 arrived and it was time to say good-bye to the last class at Ecole Sécondaire de la Seigneurie. You students were wonderful -- and I thank you for being especially kind when I told you about my mum's story and her recent death. Special thanks to Mr. Lord for arranging my visit, and to both Mr. Lord and Mr. Michaud for sharing your lovely students with me.
Bonne fin de semaine, mes amis à Beauport. Grand merci pour votre acceuil chaleureux!