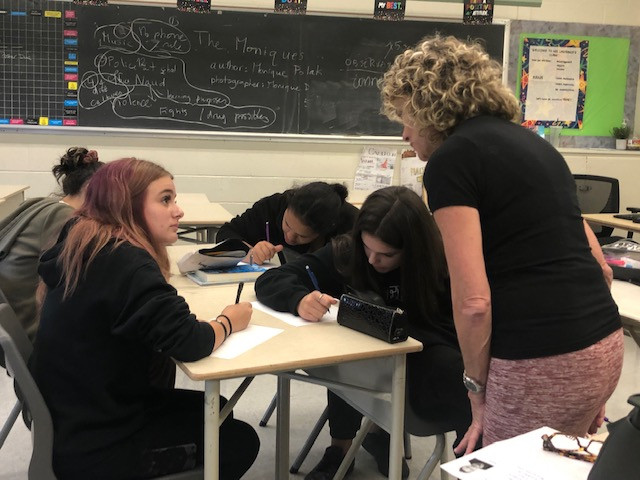 There's only one Monique (this one) in today's pic. But there were two Moniques working with Miss Lawrence's Grade Nine English class today at Rosemere High School.
The Moniques -- if you don't know this already -- are me and my good friend, the wonderful photographer Monique Dykstra. We are partnered up again for the Blue Metropolis Literary Foundation project Quebec Roots. Seven classes from seven English-language schools across the province are participating this year. A team composed of a writer and photographer will help the students produce a chapter in a book that will be published in spring 2023.
Monique and I both talked about how we do what we do -- and shared some tips of the trade. I stressed the importance of observation -- a skill that matters in photography too. I also talked about rewriting and how stories need trouble to keep them moving forward. Monique talked about the importance of connection. She said, "Just because you have a big camera does not make you a photographer. For me, photographing people [Monique is a portrait photographer] is all about connection." I LOVED THAT. I also love seeing the links between photography and writing. When I do interviews, I also need to establish a connection with my subject before I can get to work.
Monique also showed students photos taken by Diane Arbus. She reminded us that there's a Diane Arbus exhibit currently on at the Montreal Museum of Fine Arts. It's on the top of my fun-stuff-to-do list! You should go too!
The most important part of today's visit was helping the students as they try to come up with a topic for their chapter. Suggestions included: music, the multi-cultural nature of the school, the new no-cellphone rule; and the fact that there is a full-time police officer in the building this year.
Can you guess which topic the class was most interested in?
Yup, the one with the police officer. See! It's a topic based on trouble, though hopefully, there will be plenty of positive things to report too about improvements the officer's presence has brought to the school.
In addition to Ms. Lawrence's thirty or so students, we also met Mr. Cooper, the student teacher. It's Mr. Cooper who told us that some kids at the school have been flipping locks -- making them difficult to open. He thought (and Monique D agreed) that a flipped lock would make a great photo. We also talked about the kinds of questions the kids might ask the police officer on duty at the school.
The Moniques stayed for recess. As you would expect, most of the kids bolted when the recess bell rang, but four keen writers stayed to do a little writing exercise (the subject of today's pic -- thanks to student Jake for taking it!). YAY for my keen writers! Emma and Rebecca are both interested in becoming reporters. Emma-Rose had a great story to tell. And Camille, well my hunch is that Camille is a poet.
The Moniques will be back at Rosemere High School in a couple of weeks -- when we'll look at the writing and the photographs the students have generated by then. If you're like me, you're eager to learn more about the behind-the-scenes stories at Rosemere High School!