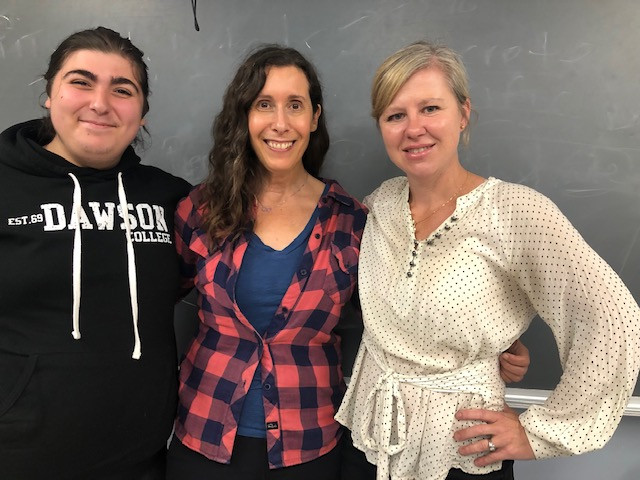 This was my first day back in a CEGEP classroom since I retired from Marianopolis College last May. And I've missed it! Which is why I'm super happy I got to hang out with teenagers today.
I was at Dawson College to listen to Montreal Gazette city columnist Allison Hanes speak to students in Andrea Strudensky's Journalism class (That's Allison in the beige blouse in my pic, Ms. Strudensky in the lumber shirt, and a student named Julio in the Dawson sweatshirt.) If you know me, you know I love to talk (especially with teenagers), but I sat quietly at the back of the classroom and took lots of notes to share with you, dear blog reader.
Allison began with a joke: "We print journalists are better writers than speakers." This however, proved not to be true because Allison covered a lot of material in an informative but also fun way. She talked about the various roles she had at The Gazette during her 22-year career – including being a court reporter, an editorial writer and an assignment editor.
As the paper's city columnist, Allison gets to share her opinions with readers. But she stressed that in the world of journalism, opinions must be based on facts. Allison had this to say about what journalism is all about: "finding out facts, verifying the facts, holding people in power to account – journalism is a pillar of democracy – and telling people's stories."
Allison spent most of class answering Ms. Strudensky's students' questions. I've been at talks where it's time for questions and there's an awkward silence – but that didn't happen today! The questions kept coming!
I thought I'd share a couple of my favourite questions – and Allison's answers. A student named Ben asked, "Did your talents and skills help you become a journalist?" Allison explained that when she was growing up, she wanted to become an architect – until she realized how much math was involved! But she also told us she was always "a good reader and writer" with an interest in current events. "I was always a political nerd," she joked. Then she added that aspiring journalists need to be able to "think critically. And you have to be curious."
A student named Alexa asked, "Do you have any writing rituals?" (I have to admit I've always been fascinated by details of the writing life.) Allison said, "I drink coffee and read to see what's going on." I especially liked what Allison said about reading the work of other journalists: "It's important to keep your brain thinking about language." YES YES and also YES to that!! Allison also shared her strategies for getting herself un-stuck (all writers get stuck sometimes!): "If I have the time, it helps to walk away. I walk the dog. I have a coffee. I let my ideas percolate."
What I liked most about Allison's presentation was her honesty. When a student asked what journalists earned, Allison didn't avoid the question -- she said a starting salary at her newspaper was about $50,000. Allison also told us she regularly asks herself, "How can I do better?" Ahh, I loved that – since it implies that though Ms. Strudensky invited Allison to class so she could teach the students, Allison herself is still learning and growing. If you ask me, that's what life is all about – no matter our age!
After class, Allison and I ducked out for a coffee. We talked about a lot of stuff, including my upcoming picture book The Brass Charm – which will be released TOMORROW by Scholastic Books. That's because Allison is going to be writing a story about the story behind my story!! How's that for a fun sentence?
Anyway, it was great to be back in school. So for all you students out there, take this blog entry as a friendly reminder of how lucky you are to be spending your days learning (I know, I know, you have tests and assignments, but that's part of the learning too – sorry to sound like a teacher!!). And for those of us who aren't in school, we need to be like Allison, constantly learning and asking ourselves, "How can I do better?"