My latest historical nove, The Taste of Rain (Orca Book Publishers), tells the story of a heroic Girl Guide troop imprisoned in China during the Second World War. So it felt fitting to launch the book yesterday at the Quebec Girl Guides Fall Fun Day at Camp Wa-Thik-Ane in Morin Heights, about an hour north of Montreal.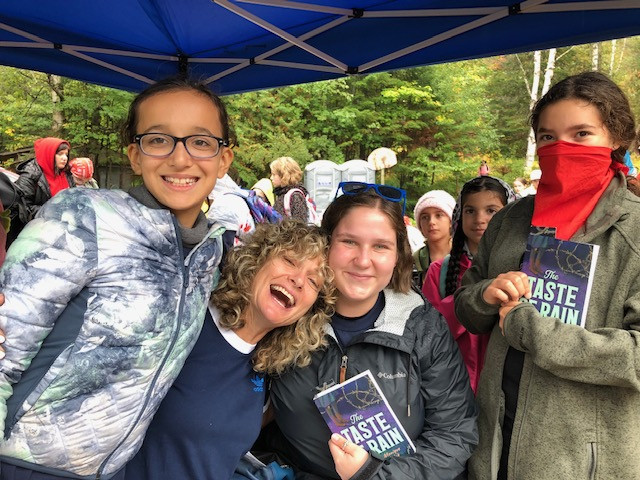 You have probably noticed that I look very happy in today's pic. That's because I WAS very happy. I did two mini-writing workshops with some of the Girl Guides, and I signed nearly 200 copies of the book. Some people get tired from hanging out with kids. Not me! I get energy from them!
Before they came to Fall Fun Day, the girls got a "kit list" -- of things they needed to pack. I was impressed that pencil and paper were part of the requirements! YAY!
Many of the Guides I met already have an interest in reading and writing. Naima, who's ten, told me, "I love writing. I want to be an author." And when I asked the girls why I never ever hand in my first draft to my editor, Lina (who is also ten) said, "It's probably because your first draft is too clichéd and sappy." I thought that was a pretty sophisticated answer for someone who's ten! Like Naima, Lina also enjoys writing. She told me, "It's cool to make a world out of the tip of your pencil."
It was a rainy day -- which also added to the special-ness! Who wants to launch a book called The Taste of Rain in sunny weather?!
Apparently, some of the Guides were spotted reading my book in the rain! Looking forward to hearing what they think of it! Many thanks to the Girl Guides of Canada -- Quebec Council for letting me come to Fall Fun Day; thanks to Babar Books for handling book sales; and thanks to the Guides for making me feel so happy and at home. Also, I really enjoyed my Taco-in-a-bag for lunch, and my first ever S'mores! GIRL GUIDES RULE!!!