Hello again, blog readers! I'm writing to you from the train – heading home to Montreal after two fun days of school visits in Quebec City.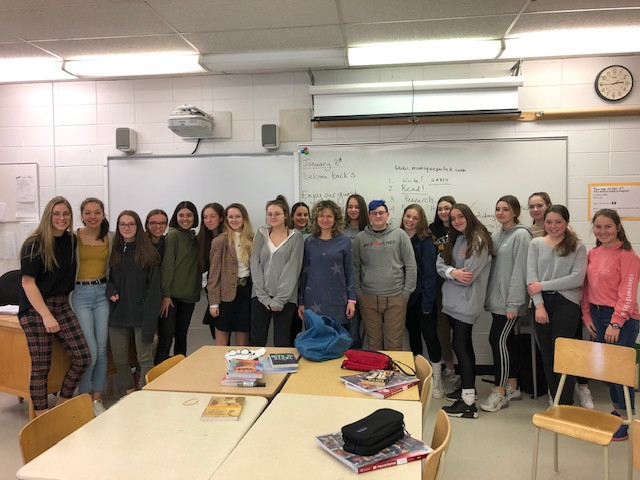 Today, I worked with Mr. Royer's Secondary IV students at Polyvalente de Charlesbourg. I knew my day was off to a lucky start when I hopped into a cab in Quebec City, and my cab driver knew exactly where to go – his daughter goes to that school! Unfortunately, I didn't get to meet her, because she's in Sec. I.
Mr. Royer's students are taking Enriched English. I made sure to tell them how lucky I think they are to be (or to be becoming) fully bilingual. I explained that though I read and speak French, I have never written a story in French – and that they will grow up to be people who can read, speak and write fluently in at least two languages. Pretty impressive and as I told them, a kind of passport to a richer life!
The students were super-focused, which made my work easy… in fact, it didn't feel like work! I told them that one of the reasons I enjoy doing school visits is that I remember how, when I was their age, I had no one to talk to about my dream of becoming an author. I didn't meet a published author until I was at university. So somtimes I think that maybe someone like the kid I used to be will be in my audience -- and that young person will be able to benefit from some of my experience.
Today, it felt as if many of Mr. Royer's students were the kind of young people I just described... eager to learn tricks of the trade! When I told the students that even after publishing 29 books, I still find writing difficult, and I often make a GRRRR noise when I am working at my desk, a student named Lara said she could relate. "I sometimes feel GRRRR," she said. "But I like to write. I don't know why. I write to myself to remember." I loved what Lara said about writing to remember, especially since I had the students do a writing exercise that focused on memory. I think memories are not random; rather they are stories asking us to tell them!
When I asked the students why reading is as important as writing, a student named Yasmine came up with an answer I liked. She said, "Reading lets you learn more styles." Exactly, Yasmine! Then I showed the students the book that I am reading, Le Miroir de Carolanne, which happens to be written by my friend, Quebec author Marie Gray.
If you read my blog, you know that I collect names for future characters. Today, I collected the name Polina -- I like it because it's an unusual spelling of a pretty name. Polina, don't be surprised to find your name in one of my books one of these days!
I'll end today's blog entry with a word about Xavier. Let's just say he's one of the few students who didn't seem so "into" the writing exercise. I noticed he only wrote three words about his memory... at first, I wasn't impressed, until I read the words: "vomit/shame/fun." Whoo, Xavier, there's a story there. My favourite part is in the middle word -- shame. It's a feeling that few people are brave enough to write about. And as I told the students today, writing takes COURAGE. Go for it, Xavier. Here's your challenge: turn those three words into a story.
So, I think I caused enough trouble for today! Time for me to finish Marie's book. Special thanks to Mr. Royer for arranging my visit (to Mr. Lord at Ecole Secondaire de la Seigneurie for coordinting the two visits), and to all the kids for being AWESOME.