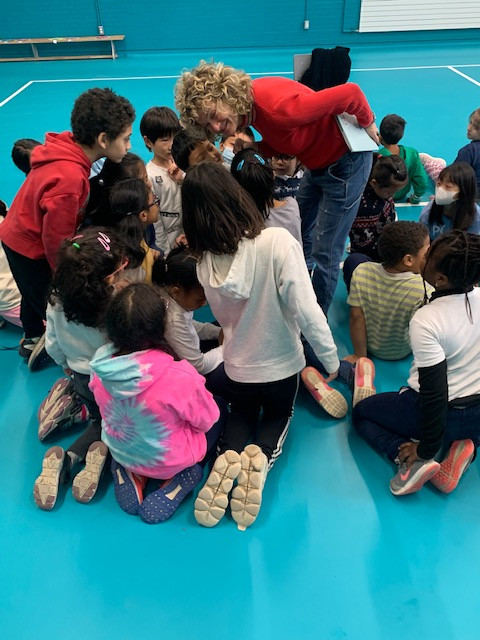 I know what you're wondering -- what exactly is going on in today's pic?
Well, I'm showing some of the Grade Three students at Westmount Park Elementary School my monkey man charm. That's because I was at Westmount Park Elementary School this morning to read the grade three's my new book, The Brass Charm, which was inspired by a monkey man charm my mom gave me. The charm, in turn, was given to my mom when she was a child prisoner in Theresienstadt, a Nazi concentration camp. I think if I had to say in only one word what my book is about, I'd say kindness.
So it was very special that the first thing I learned when I walked into the school was that each student has recently received a kindness card. When their teachers "catch" them doing kind things, the students get a hole-punch in their cards. Once they get ten hole-punches, they go to vice-principal Ms. Holly's office. "I have a treasure box," Ms. Holly explained, "and the students can choose a treat from the treasure box, for instance a colouring book." I LOVE THAT IDEA! DON'T YOU? I think I love it so much because we all know school is for learning stuff, but I don't think people realize that kindess is also something that can be taught and learned.
So, I have to tell you more sweet and interesting things that happened during today's visit!
When I showed the students my monkey man charm, a student named Tyrese said, "I can't see him because he'e swinging." I thought the word "swinging" is a pretty fancy word for a student in Grade Three to use. Also, I love strong verbs and "swinging" definitely qualifies. For the record, I stopped the monkey man from swinging so Tyrese could get a better look.
Laila had a great question. "What's brass?" she wanted to know. What I loved about this question is that I bet other kids had never heard the word "brass" before either, but Laila was brave enough to ask. See! Asking questions takes courage! I explained that brass is an inexpensive metal, and that the original monkey man was made of brass.
Another question that I totally LOVED came from Eyad. He asked, "What does talent mean?" (He asked because I told the kids that my grandfather -- a painter -- told me that if I wanted to make it as a writer, I'd need a bit of talent, but A LOT of hard work!) I asked Eyad if he was naturally good at anything -- he told me his specialities are chess and a game called chopsticks. "Nobody ever beat me at that game," he explained. We can be naturally good at certain things, but to get REALLY REALLY REALLY GOOD, we need to practise A LOT!! (I'm still practising my writing!!!)
Another one of my favourite moments was when a student named Isabella asked me what I found to be a very sophisticated question: "What inspired you to write this book?" I did notice that Isabella was holding a little piece of paper -- that was a clue to me that she had prepared her question in advance. So, being the snoopy sort, I asked about the paper in Isabella's hand and I learned something super interesting. Ready? That her teacher, the lovely Miss Marie, had prepared some questions for Isabella to ask! That gave me a great chuckle -- and it's why I have decided to include a second picture in today's blog entry -- Isabella with her note from Miss Marie! Take a look!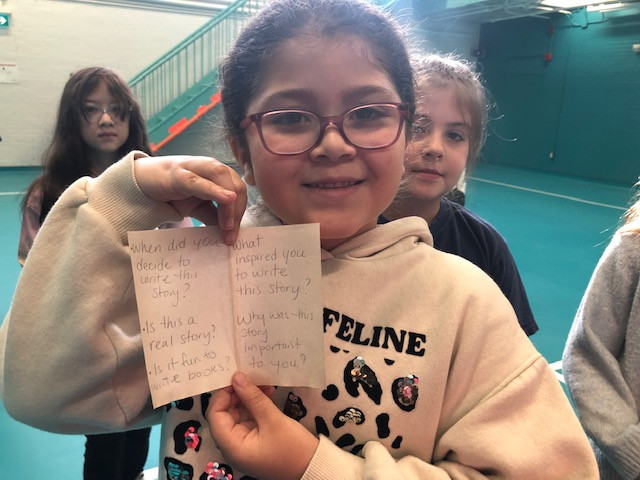 I am chuckling again as I write this post and look at that picture! I hope you enjoy it too!
So, a giant thank you to Mike Cohen from the EMSB for the invitation to Westmount Park; to spiritual and community involvement animator Mikaella Goldsmith for arranging the visit; to the teachers for sharing your wonderful students with me; to Ms. Holly for your treasure box -- and for my beautiful flowers. Oh, I nearly forgot to tell you that the kids made me a thank you poster which I have hung on the wall of my office at home! And there were flowers too, in a very fancy paper holder! Biggest thanks of all to the kids. I know I only spent an hour with you, but you amazed me with your focus and your great questions and your KINDNESS. xo from Monique