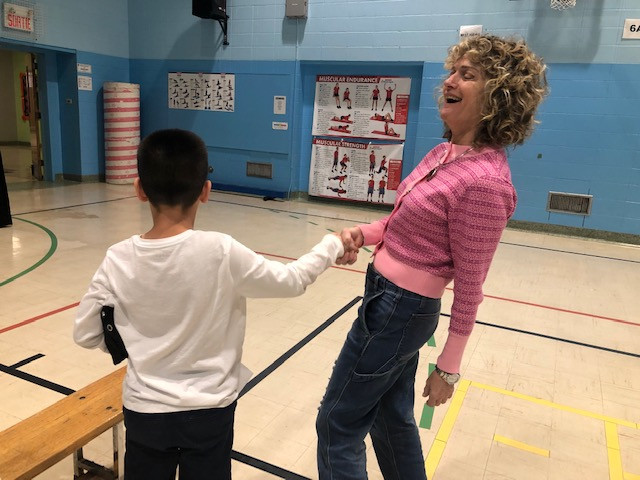 It's hard to get cute pictures during school visits. Most of my pics (as you may have noticed) are shots of me talking to a class, or posed with a class in front of a blackboard. Which is why I'm so fond of today's pic from yesterday's visit to Our Lady of Pompei Elementary School in Saint-Michel.
I did two readings and mini-writing workshops at Our Lady of Pompei Elementary School, one for students in kindergarten through grade two, and another for students in grades three to six. In the pic, I had just finished my second presentation and a polite young gentleman wanted to shake my hand and say thanks on his way out of the gymnasium. I was so impressed I asked him if we could recreate the moment for a photo, which he agreed to do, except he added, "If you don't mind, I need to leave now." See! Great combination of truth-telling and good manners. (Only I didn't write down this student's name. If you're reading this blog entry and you want to tell me his first name -- I know you only see his back in the pic, but maybe you can still figure out who it is -- well then, I'll add that info to this blog entry. By the way, I think the student in the pic could be Damien.)
I was invited to Our Lady of Pompeio by Mikaella Goldsmith, the school's spiritual and community involvement animator. Ms. Goldsmith works at FOUR English Montreal School Board schools -- tomorrow I'll see her again when I go to Westmount Park Elementary School, another one of her schools.
Ms. Goldsmith invited me in honour of Jewish Book Month. So it was fitting that I focused on my new picture book The Brass Charm, a Holocaust story for young readers. Even the younger group had lots to say about the subject of the Holocaust -- and my book. An observant grade two student named Sara looked at the book's cover and the necklace I was wearing and asked, "Is that the necklace on the cover of the book?" And Sarah was right! The book was inspired by a brass charm that my mum gave me. I wear a silver replica of the charm -- a monkey man -- on the chain around my neck.
When I told the kids that, "A lot of sad stuff has happened in our world and continues to happen," a lovely Grade One student named Paolo nodded and said, "Very very sad." That was for me such a sweet moment. Paola's parents, if you're reading this blog entry, you are raising a wonderful kid!
When I told Isabella (I'm pretty sure she's also in grade two) that I wanted to include her question in this blog entry, she kindly offered, "Can I spell you my name?" Isabelle (correctly spelled) asked a question about the beginning of my story: "Why did the roof blow off the house?" I answered that when I was a little girl back in the 1960s, the roof really did blow off one of the houses on my street -- and I used that memory to get my book started. I needed something big and upsetting to happen to my character Tali -- something that would make her need her oma's wisdom and support. (Oma, by the way, is the Dutch word for grandmother.)
The older kids were what people might call "a piece of cake" -- meaning they were yummy -- and easy to work with. Though I'm not supposed to have favourites, I sometimes get a special feeling about certain students. That's what happened with a grade four student named Kristina, whom I happened to bump into at the school library before my talks. Kristina asked me, "Did you ever go to your mother's concentration camp?" -- and I answered that yes, I visited Theresienstadt to do research while I was writing an earlier book, What World Is Left.
Damien wanted to know what year my mom died -- it was 2017. But that question prompted me to tell the students something else that felt important. "My mum," I told the kids, "always told students that the Nazis took everything away from their prisoners -- their homes, their schools, their families, their possessions. But," she liked to say, "there was one thing the Nazis could never take away from us. And that was hope."
So, that feels like a nice place to end today's blog entry -- on my mum's message of hope. Thanks to Mike Cohen at the EMSB for helping to get Ms. Goldsmith and many other teachers and schools interested in my work. But thanks especially to the students at Our Lady of Pompei Elementary School for being lovely! Keep reading and writing and finding stories wherever you go!