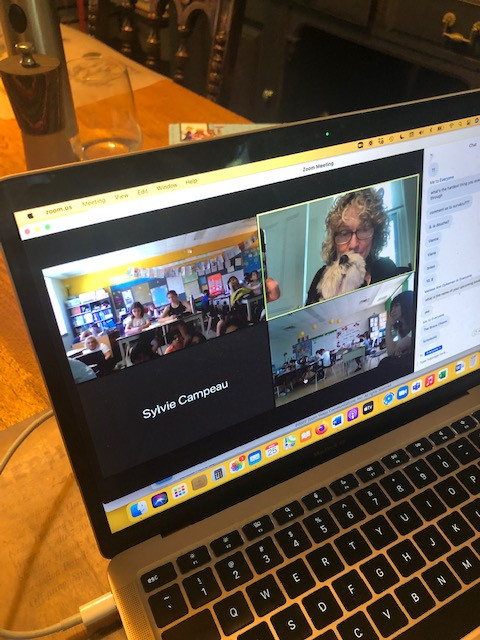 Hello, blog readers! I just "returned" from a fun virtual visit en français to Grades Five and Six students at Margaret Manson Elementary School in Kirkland. The Margaret Manson team were runners up in Qui Lira Vaincra, a reading competition organized by Sylvie Campeau of the Lester B. Pearson School Board. If you are a regular reader of this blog, you know I'm the prize for the three winning schools. Don't get me wrong: the students don't get to keep me on the shelf like a trophy, they get to take a writing workshop from me!
So today, I shared my usual tips -- such as that if you think your "brouillon" -- the French word for rough draft -- is awful, it's a sign you just might be a writer!
I also told my favourite story -- the one about the brass charm I wear aound my neck every single day. And I told the students how that story is coming out in book form this fall with Scholastic -- it'll be a picture book illustrated by the amazing Marie Lafrance.
I even introduced the students to Pepper -- my boyfriend's kids' dog. That's because this week, I'm staying with my boyfriend's kids -- keeping an eye on them, and also on Pepper. I coaxed Pepper into my lap so that the students could see how cute he is (check him out in today's pic). I told the students, "Isn't he the cutest dog ever?" and I had to laugh out loud when one of the students called out, "My dog is cuter!" (Personally, I find that hard to believe.)
Even though my visit was virtual, the kids seemed to be astonishingly focused and well-behaved. Unless the misbehavers weren't on screen -- haha!
There was time for the memory-as-story-inspiration exercise that I love to do. A student named Kaya shared her memory of being five, and she agreed to let me include it in this post. "I remember being bullied. They were rude and they talked bad about me." I told Kaya that writing that story would be good for her, but that most importantly of all, it could help the many other kids who have had to deal with bullies.
A student named Hannah shared her memory of winning first place. Hannah said, "I won first place medal for something, but I forget what. I think it took place in the gym though. My grandparents were there and we had fun." When I asked the students what was missing from Hannah's story, Kaya knew the answer: "Trouble!" Yup, though we try to avoid it in our lives, trouble makes stories move forward and gives them energy.
Grand merci to Madame Campeau for organizing today's visit, and to teachers Madame Mercier, Ms. Dykerman, and Ms. Yule for sharing your students with me today. If the kids have questions, tell them to go ahead and post them here in the comments section! Over and out from Monique (and Pepper)