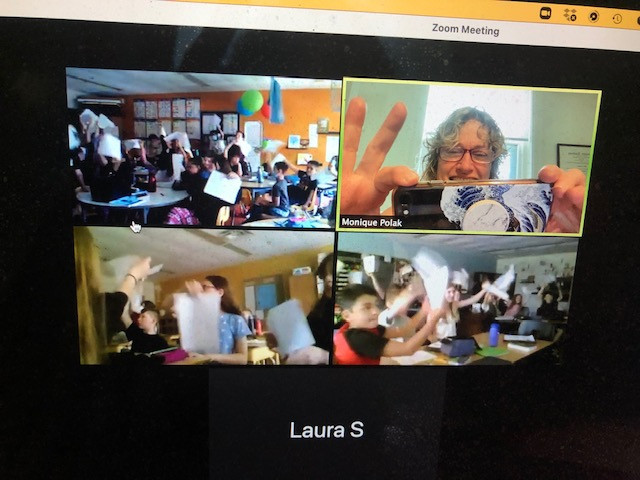 I just finished a joyful virtual visit with students at Birchwood Elementary School. Twelve Birchwood students took part in the Qui Lira, Vaincra competition -- and one of the school's two teams made it to the finals. If you've been reading my blog lately, you'll know that winners of Qui Lira, Vaincra get a fun prize: ME!!! (Haha, I do like to think of myself as a fun prize. Perhaps not everyone who knows me would agree.)
Alors, j'ai fait ma visite plus ou moins entièrement en français, mais j'écris ce blog en anglais parce que j'ai peur de faire trop d'erreurs. Even though I did tell the students that we learn by making errors. (I'd just rather not make them here on my blog!)
First of all, you will be wondering what in the world is going on in today's pic. I asked the kids to show me if they had pen and paper for notes, and they waved their papers at me. Which led me to ask them if they knew the French word to describe "waving" papers in the air. Madame Bournival, one of the teachers, and coach of Birchwood's Qui Lira teams, told me the answer: "lever le papier." Which led us to discuss how some words are better in either French or English. If you ask me, English wins in this case. I'd rather write about waving a paper, than lever un papier! I don't know about you, but I love thinking about words IN ANY LANGUAGE!
Because I had met most of these Birchwood students when I visited their school last fall, I didn't do my usual writing workshop. Instead, I came up with the idea of sharing interview tips -- and I suggested to the students that they use my tips when they interview either old people or else people who have no voice (which means they are the kind of people others might overlook). I'll admit that some of my tips are a bit zany -- such as serving your interview subject a warm beverage, and putting away your pen and paper at the end of the interview!
I asked students why they thought I was recommending they interview old people. A student named Anthony wanted to answer the question, but somehow he momentarily disappeared on his way to the front of the classroom. That led me to come up with a good book title: THE CASE OF THE VANISHING STUDENT. Luckily, Anthony reappeared and he had a great answer for me: "Because old people have the most stories." EXACTLY, Anthony!
There was time for questions at the end of my presentation, and before I shared a writing exercise. I remembered Logan from my previous visits. What I didn't know was how beautifully Logan speaks French. I have to admit I was jealous -- Logan has no English accent when speaking French. Hey, I forgot to write down Logan's question -- I think because I was too busy being impressed! Logan, if you want to remind me of your question in the comments section, I will update this paragraph!
Srishti wanted to know if she could interview her grandparents even if they hadn't lived through a war. (This question came because I explained how my mum survived World War II.) I told Srishti that everyone goes through hard times, and that doesn't have to be a war. Sometimes the hardest times have to do with our families, and the people we love and lose.
Benjamin wanted to know what hobbies I have besides writing and reading. I told him that just this morning I jogged and biked. Then I explained that yesterday I got an excellent book idea while biking. So I suggested that writers need to get exercise!! Benjamin wanted to know what the idea was -- great curiosity, Benjamin! -- so I explained that I'm writing a non-fiction book and decided to include a sidebar about Remembrance Day.
Alyssah impressed me with what I thought was a super sophisticated question: "For fiction, do we still need to do interviews?" I told her the answer is YES YES YES. I believe that even the best, most imaginative fiction has roots in reality.
Dia wanted to know how else I find stories, besides from interviewing people. I explained to Dia my theory that THE AIR IS THICK WITH STORIES. PAY ATTENTION, ASK QUESTIONS AND THE STORIES WILL COME TO YOU.
Blake wanted to know what I write about in my journals and I explained that I write about EVERYTHING, and that after every journal entry, I feel grateful. I suggested Blake try writing regularly too, and he looked up at me and said, "I'll try." Which pretty much made my day.
So... huge merci's to the teachers who shared their students with me today -- Madame Bournival, Madame Zoe, Madame Lucie, Ms. Roberts and Ms. Sellito. Thanks to Sylvie Campeau at the LBPSB for making me the prize!! Thanks to the kids for being awesome et en français FORMIDABLE. Summer's coming, you guys... there will be time to eat ice cream, and go swimming, and lounge in the hammock... and there will also be time to READ and WRITE. Thanks to all of you for making today's visit so fun!