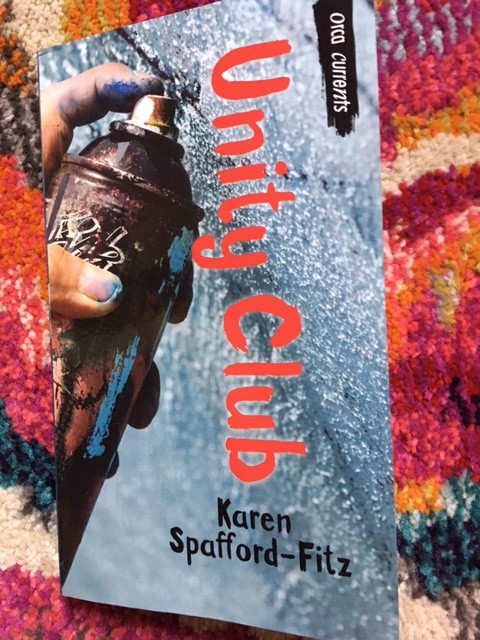 One of the fun things about being an author is hanging out with other authors -- and reading their books!
Karen Spafford-Fitz may live in Edmonton, but we've still had several chances to hang out over the years (mostly when one of her daughters was attending McGill University here in Montreal). Anyway, the two of us hit it off, and have stayed in touch. So though I didn't get to see Karen this weekend, I did get to read her latest YA title Unity Club (Orca Book Publishers).
It was a wonderful, uplifting and though-provoking read. One of the things I liked best about Unity Club was the narrator, Brett. As I mentioned to Karen in an email, I found it refreshing to meet a narrator who's basically a good kid. So many YA narrators these days (my own included!) are difficult, tough kids. Brett is one of those people who tries to do the right thing, even if that's sometimes hard.
When I asked Karen about her choice of narrator, she told me something super interesting -- that Brett's existence is due at least in part to American politics! Karen started writing Unity Club the day after the 2016 American presidential election. Here's how Karen explained it to me: "At that time, I felt a definite need to create a president who I hoped many people could better respect and relate to. I decided that my president would be a young female with a strong social conscience and strong convictions. I also decided that she would be open to re-evaluating her opinions as new information arose."
I told you that was super interesting, didn't I?!
The Unity Club that provides the title for Karen's book is a school club where kids do positive outreach work in their community. For example, they knit scarves and blankets for those in need. When I was reading the book, I couldn't help wondering how Karen knew so much about knitting. So I asked her about that too -- and guess what? It turns out Karen is a knitter, and that she sometimes donates socks and scarves she's knitted. Karen says that, "I always hope my hand-knit scarves and socks feel like warm hugs."
I love how real life finds its way into fiction!
I also asked Karen about her writing process. She explained that before she starts a project, she "interviews" her characters. This sounds like a trick I'd like to start using too. Here's how Karen said it works: "I get to know my protagonist by putting them through a sort of mock 'personal interview.' ... What is my protagonist's most notable characteristic? What does that character want above all else? What is standing in their way? What is at stake if the protagonist is does notget what they want?"
I think those are amazing questions. In fact, I think they're worth putting on the whiteboard in my classroom. If you're working on your own stories, why don't you try interviewing your characterts too?
Even if Brett is a good kid, like all of us, she has her own struggles. Brett has a complicated relationship with her mom, who has moved to another city. Brett also has to deal with a fellow student who wanted to be president of the Unity Club too. And then there's Jude, the boy who lives at the nearby group home. Is he hiding something from Brett?
Long ago, a neigbour on the street where I grew up tried to teach me how to knit, but I never really caught on. In the end, it was the way Karen knitted this story together that touched me most.
Brett knits a scarf using a cable pattern. Towards the end of the book, Brett reflects on the pattern, "how it symbolizes a rope or a lifeline that brings people back home to safety." I love that line. For me, that's what reading a good book feels like too. A rope or a lifeline that brings us back home.
Hey, thanks Karen, for another great read! I'm already looking forward to your next book! XO Mo